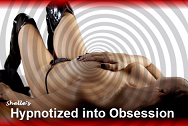 you are absolutely going to love being Hypnotized into OBSESSION.  I'm going to DEEPLY hypnotize you and imprint onto your subconscious mind images....Close your eyes and listen to My voice feed your imagination and addiction.  your mind eye's camera will linger as I bring everything into focus, setting it afire with vivid images to lure and seduce you......
ALL you really need to know is that this session is your COMPULSION!!!!!
UPDATES
If you missed it...I have put together the whole Chastity LOCKDOWN and Assignments into one package that I will be making available this week.  26 days in Chastity for your Domina. Keeping you hard and horny, with an overwhelming need to Please Me....finding the pleasure of submission and obedience to My control greater than the need for release.  All of which brings you on your knees to Me in servitude and enslavement.....Trust Me.  This is an offer you can't refuse.
Just to let you know, I have changed My CHALLENGE back to contributions for My future security.  One more month to go for funds into My retirement account.  I thought I should start to manage My own future with some savings, if I will be managing more and more of your future....Set Me up with a lifetime annuity and I'll let you "manage" Me. ~giggles~
If you think you can handle a pair of My well worn (naughty) PANTIES, look in My Special Deals.
NEXT WEEK
My pet, have things gotten a little out of focus for you?  you need My direction.  Let Me help put everything in its proper perspective with a training session.  It just feels so good when I am in charge and do the thinking for you.
Check here for special deals ...