you have made such good progress, My puppy, in becoming perfectly submissive for Me.  This week is a preparation for a new phase of your training which I will introduce next week.  you know the Law of Hypnosis, Repetition. Repetition. Repetition.
This week's session, REINFORCED REPETITION will fuck with your mind and make you hard and horny.  Repetition is sexy because you like to hear My voice say it over and over again to you.  My words conjure images that arouse you.  When you listen, you obey, each time I tell you what to do.  Hearing Me say Anything over and over again is pure pleasure.  This is how I brainwash you...this is what you allow Me to do to your brain. ~giggles~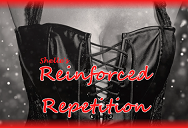 I will bring you back, back and take you deeper to revisit some of your sexiest experiences.  Listen to My induction and "deepeners".  Listen and fall deeper under My spell, if that is even possible.  The law of hypnosis fortifies My control and intensifies your enslavement.  Listen and Obey.  Listen and Obey.  Listen and Obey.  Trust Me, you won't be DAZED AND CONFUSED.  you will be ready for next week.
Roll of Dice --- I've gotten such a good response from the edging game.  Lots of fun and I enjoyed knowing how much I am in your mind.  you might be tender and sore.  As a nurse My advice, if you have a lot of swelling and soreness, an ice pack wrapped around your "engorged area" will reduce any pain and swelling.  Winners have claimed their reward.  If you haven't, yet, follow up with Me to claim My free permission to orgasm.
UPDATE AND NEXT WEEK
I have been working on the Journey to Enslavement series.  I am planning AMAZING SURPRISES to make this the most POWERFUL series I've ever done.  I will open your mind to new reprogramming and take you in a new erotic direction to a deeper and more WICKED Enslavement.  I want to get this perfectly right.  I'll be recording new material, so stay tuned.  I definitely plan to leave your mind open and susceptible to being programmed with three little words, Activate Control Chip.  The implantation will be painless... Giggles
Meanwhile, I'll keep you in suspense for next week.  By the way, contracted, I heard you enjoyed the new video I posted on SFS. Kisses.
My special deals ...