While I was deep into your mind the other day, I noticed something that needs My immediate attention.  Nothing too serious.  So this is the perfect time to bring you PART 3 of the "In your Head" series.  This week's Leak in your Head will fix a leaking drip to correct your mind functionality which will provide the stability you need for thinking 100% MY thoughts and get you back on track to My satisfaction.
A mind under My control has direction and purpose.... to serve and obey only My commands.  This benefits you, My pet, helping you focus on your need to please your Domina and make Me happy.  A little positive reinforcement will help.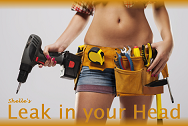 When you serve your Domina you live in the joy and pleasure of making Me happy.  you stroke and obey.  you seek the pleasure of pleasing Me by submitting to My control.  I feed your needs, your addictions, your orgasms, your dreams and fantasies.  Brainwashed in trances you want to sink deep into submission for Me.  you are your true self with Me.  Submission is your true nature.  My TRUE slave is loyal and devoted, always wanting to serve and obey only ME.
For the best effect, you need to listen to BREASTS IN YOUR HEAD as preparation, which I will have in My Special Deals together with VOICE IN YOUR HEAD.
MOTHER'S DAY
Sunday is Mother's Day.  Be sure to make it special for Her.  If you have lost your mother, contact a relative to remember her with love.
FIRST IMPLANT
I'm working on new installs for your Brain Chip, so watch for IMPLANT'S soon which I will be sending FREE to My contracted slave and to everyone who signed up.  you can Sign Up today and receive your first Implant free.  Remember you have to sign up to receive all My future Implant Triggers.  For the IMPLANTS to work properly, you must listen to all 3 trainings in the BRAIN CHIP SERIES.
LADY HELENA
This week, I am having Lady Helena take you back to Her Fantasy Chamber to continue your submissive training and education with MY CHAMBER- ROOM # 2. (This is her most powerful session ever)  To get the full affects of Her teasing words I recommend you listen to the first file session, My Chamber - Room #1.
NEXT WEEK AND PHOTOS
In coming weeks, I have something very exciting waiting for your suggestible mind.  W/we will explore some of the other dimensions and expectations of being a TRUE submissive to your Domina.  Stimulating ways to focus your attention on Me.
To help stimulate your imagination, I will post new photos.  I want to be very real to you to help you focus all of your senses on Me.  Explore pleasurable fetish or indulge a need to worship My sexy body and then indulge Me what I desire.
Next week, I will be bringing you back to some stimulating slave training.  I will explain the pleasure I get when you spoil and pamper Me.... you already know the pleasure that comes to you when you serve and please Me.
Check special deals this week ...