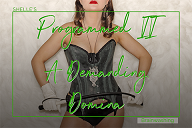 First of all get PROGRAMMED while in CHASTITY! My part two of the MIND PROGRAMMING Series...Programmed II - A Demanding Domina. Go NOW and download. It's very easy to be MIND F8CKED while LOCKED DOWN.
My submissive puppy, one month a year, Loctober, should be dedicated to have you experience Chastity for Me. I do it because a truely devoted Chastity slave gets tremendous pleasure and satisfaction serving Me with his orgasm denial. But Chastity can be very pleasurable and arousing even for an everyday stroke addict.~giggles~ W/we will be working together to make these periods of being chaste an important part of your service to Me, a way of expressing your love and dedication to Pleasing your Domina. And in return you earn My affection and approval.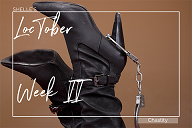 With LOCTOBER - Week II Chastity Pleasures I want all My followers to focus on the many pleasures of abstinence and sacrificing for Me. Enjoy the important role chastity has in O/our D/s relationship. Think of your most vivid fantasy involving your Domina and now think of being obedient and chaste, because that's what I WANT. Then see how that intensifies your emotional connection to Me. Isn't pleasing Me most important to you? It's also going to be such an erotic experience when I start winding up My little sex toy.
FREE DOWNLOAD: If you have the Week 2 2021 Loctober audio session, download the updated Assignment for WEEK 2 here: Chastity Assignment & Sissy Chastity Assignment.
In LOCKDOWN I'm training you to delay your sexual gratification and you are doing it for Me. you are learning to replace your "need/preoccupation/habit" for immediate sexual gratification with something more substantial, more desirable, more satisfying, more rewarding and ultimately so much more pleasurable and exciting which is OBEDIENCE to your Domina. If I want you to feel more excited and aroused you'll feel shivers of pleasure coursing through your body. The more aroused you become, the more obedient you will be. If I want you helpless, that's what you are, controlled, captive, powerless and weak for Me. If I want you to delay orgasmic gratification, you embrace it because you Obey and patiently wait for My permission because you are now craving to Please Me.
The greatest pleasure you experience is Pleasing Me with your Obedience. Isn't it, My sex toy? This is the wonderful cycle of chastity, pet. Under MY control, I allow you, My submissive, to beg for My permission. Now that's an explosive orgasm worth waiting for.
BE WARNED! I make it too exciting, so be sure to follow your Assignment instructions about when you are allowed to Edge when you listen to this session. A motivated slave who is aroused and obedient, who saves it all up for ME is so happy doing even more for Me when you crave to please your Domina. Perfect! This IS going to be exciting.
This session stands on its own, try it even if you are not in LOCKDOWN.
There will CONTINUE to be brand new sessions each week as usual. The new sessions are NOT part of the Loctober Assignment package.
UPDATES
If you didn't SIGN UP, you have permission to purchase and listen to this week's session. It's quite sexy. Start in with this week's Assignment.
Remember to choose the WEEK-II Assignment option that fits you. Also, remember your Journal entries for this week to be sent at the end of LOCKDOWN.
My new Photos are too HOT for Loctober so I'll save them as a reward at the completion of LOCKDOWN.
NEXT WEEK The chaste tingling will continue. I'm taking you back into My laboratory to experiment with a special hypnosis technique.
My special deals for Week II ...