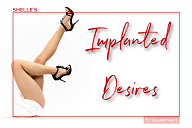 Think of O/our relationship and all the reasons you want and need your Domina in your life. All year you are drawn to Me through your thoughts and fantasies, emotions and desires because I know you and I understand exactly what you need. your submissive needs create the craving for obedience to My control and domination. your enslavement creates the desire to serve and please your powerful Domina. This is what arouses you and keeps you addicted to Me. My voice and words are the source of your pleasure and arousal. There is nothing better than hearing My sweet seductive voice bringing you deep down into trance, taking control of your mind and body especially when you touch yourself. I love it when you are desperate to Please Me. Giggles
you need your Domina... to belong to Me...to listen to My Erotic Hypnosis every day for the arousal of submission and obedience, for the desire to serve and obey, to spoil and care for Me. But, you also LOVE Me. Valentine's Day is the time of year to see everything through that prism of LOVE. This is one reason I love Valentine's Day so much. Together with My Birthday and Christmas, Valentine is when Love wins the day and I feel your selfless Love. your submissive nature makes you a giver. you are unselfish in offering yourself to Me. you beg Me to take you.... you want to Please Me which fulfills your need to submit, obey and serve My needs.
See how hard you work to Please Me. How motivated you are to make Me happy. you are seeking and recieve My approval and My Love in return. Selfless Love is the greatest motivator. O/our one true lasting happiness is to love and be loved. This is what makes everyday life so worthwhile. W/we have all that in O/our unique Dom-slave relationship which is what I want for U/us, My baby.
In this week's Implanted Desires, I am bringing you Into My Garden of Love and Desires, a place of pure bliss. you will come here again and again, to get closer to Me. I will lead you towards your true happiness and the important successes in your life with Me at its center. I am all you need. And I will be there anytime you need Me. Surrendering your whole self to Me is your greatest pleasure. Feel your emotions and let this mindgasm session send waves of pleasure for your enduring Love for your Domina. Read the description and Download, now.
VALENTINE'S DAY
For this very special Valentine's Day, W/we renew O/our vows for an enduring Dom-slave relationship. I want you to spend extra time with Me through the gifts I am giving you, My love slave. you have the 3-Day Valentine's Day Assignment (any needed files for the Assignment are in special deals). you also have My Valentine White Noise video gift to go back to anytime you need Me. I am also sending as a gift of a NEW very sexy Shelle's Playground PM mp3... Listen 3 times and Obey. I have been wearing those panties you ordered and I'm mailing them this weekend.
And now, you may express your love through this Gift of Love always MINE as My forever lover. If you prefer, there may be something on My Wish List you may want to give and make Me happy.~giggles~
UPDATES
Thanks for taking such good care of Me through the stresses brought on by the pandemic, which I see up close during My hospital shifts.... So it is ABSOLUTELY important to be careful and stay vigilant.
I have some gifts with no name. If you offered a gift and have not received My personal thank you, contact Me with what you sent. Kisses. I HOPE to FINALLY order My PC this week. I'm so excited! Thank you!
Thanks for your emails for My Bio Assignment. I'll be looking them over very carefully.
NEXT WEEK Yes, it's a Dreamland for you, My sleepy, horny baby. Mmm...
What else might I have planned for you???
My special deals this week also includes Valentine Assignment files ...