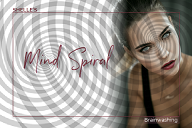 Session Notes: Deep EROTIC Hypnosis, Skillful Mind Manipulation and extreme arousal.
Shhhh be quiet, time to listen. I love ShhhhING you. Giggles
How are you? Did the session "Down The Rabbit Hole" FUCK with your thoughts?...have you listened over and over to figure out what is actually happening...or have you accepted being TWISTED? Yes, TWISTED, that is the perfect description for that session...a DRUG trip with only My voice dripping into your veins. SEXY! I have so much POWER over you now.
Isn't it funny how your Queen of Covert Indoctrination slips into your mind so easily? No matter how much I share with you about a session, you are always taken by surprise. I first disarm you and open you up like a BLANK book, then I write what I want on your OPEN and SUGGESTIBLE mind. So many ways to your center. Giggles!!!
But, My sweet, be advised, this week's MP3...Mind Spiral....will cause EXTREME arousal as I SYSTEMATICALLY SEDUCE your mind into complete SENSUAL SURRENDER. This will be irresistible, incomparable and unforgettable...(giggles) My every touch, every sweetly spoken word, will bring you pleasure unlike anything you've experienced before... you will be forever Hypno ENSLAVED by Your Domina, lost again in My world only wanting to fall into the Abyss and submit all that you are to My ABSOLUTE authority.
So, My baby, just DO IT! Go NOW and CLICK and download and let the Mind Fucking begin...Oh, I mean BRAINWASHING. Silly ME! Always dreaming of impregnating your brain. GIGGLES!
UPDATES
*My trip to Tennessee was so amazing. OMG, it was a steam bath, but amazing. As soon as i walked outside I was dripping wet...ummm, you like My sweet sweaty skin, don't you. I know you do. I am begining to get excited about the REAL possibility of moving back to the farm VERY SOON. It will always be home to Me, plus daddy needs to go home. It was so much fun, I loved spending time on the tractor and 4-wheeler. Plus I went swimming in the large pond behind the house...Almost stepped on a snake on My way through the field. We had amazing food, we cooked a whole shoulder, made ice-cream a few times...yummy. We had the best food ever...and lots of fresh watermelon. Good thing I'm a runner. We spent evenings around the campfire...just some good OLE SOUTHERN living. A great escape from all that is happening in the cities. The skys so DARK that I could be a billion stars. It was paradise. I wanna go home. I'll keep you updated. Hey and the BEACH trip is in 8 days. SO CITED!!!
*The Summer is going to get HOTTER. I'll be calling all LAB rats/Guinea pigs soon. Maybe a few beach pics coming soon.
*PLEASE BE SAFE! Covid NUMBERS are growing daily for Us...don't worry, I am taking every precaution and following all protocols.
NEXT WEEK
Find yourself in a Hypnotic TRIGGER TRAP --EXTREME BRAINWASHING.
My special deals this week:
Behavioral Conditioning - Amnesia --
SEXY to FORGET...
Brainwashing LOOP Trainings - Weeks 1-4 --
Four brainwashing loop sessions...POTENT irreversible conditioning...