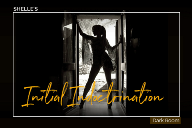 First of all I hope that you had an amazing Thanksgiving.  This is such a perfect time of the year.  I am ready for the season.  I want to spend every moment with U/us together.  I have wonderful plans for you.
My puppy, you follow your Domina everywhere I lead you...Deep into My Erotic Hypnotic World, far into the Sleeping Forest, onto My playground.  In December I hope to take you with Me to Tennessee with an assignment to work My FARM.  But today your Domina is going to captivate you and float you into the still blackness of My Dark Room ... I have some surprises for you in there.  Trust Me.  Surrender all control, My baby.  you will obey your brainwashing.
I don't want to give too much away, but for the future, you will find yourself back in this place...a perfect place for brainwashing.
I will tell you that you may not remember all that happens to you as you fall into the deepest state of trance...don't worry, I'll be right there with you.
CALLING ALL VOLUNTEERS
I really want to thank My volunteers for helping Me out in such a big way.  This makes your Domina very happy.  Just knowing that you care enough to do My bidding.  It feels good to depend on you.  I know this makes you happy too...W/we both get what W/we want. I love your SPOILING ME.
I've been asked about My Volunteer Savings Assignment, sometimes confused with My Volunteer Assignment which is when I call on you for bill paying and other assistance.
So to clear up any confusion.  This is a Voluntary assignment that is meant to help you integrate Me more into your everyday life and help you manage saving money.  When you plan to buy something, you are also thinking of Me.  So now, you think of the best way to save money when buying something you want....Or even deciding not to spend money but save it.  And the savings you have, you send to Me and I know you are thinking of your Domina and want to please Me.  Isn't that just PERFECT!  So My suggestion is....surprise Me anytime you want.
WEBSITE --- I will HOPE to have a GRAND opening before the New Year. Giggles!!!
NEXT WEEK
School will be in session for Re-Form School-Class #5.  Bring your Submission.
If you have NOT experienced one of My class sessions, this one is perfect for you.
My special deals ~~~