Here W/we are, My baby, at the end of one year and the start of a new one together. It's been a WILD RIDE. Don't you think? Well, let's not stop now! This week I have for you an amazing REPRODUCTION of Tricked Into Trance along with two ABSOLUTELY CRAZY BRAINWASHING LOOPS. The first loop is your Unethical Therapist at work...The second is a WICKED ADDICTION LOOP. This collection which I named Mind Trickery is going to BLOW your HYPNOTIZED MIND. A NEW EXPERIENCE! One you will want more and more.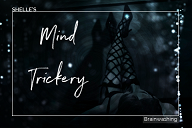 You will listen, this is what you need. Obedience to Me is Pleasure. I dare you to resist Me. Listen and go deeper. Go deeper and become weaker. Let go and Obey. Listen. Just the word OBEY, sends tingles through your submissive mind and body. you obey because you listen, then you obey because you want to obey your Princess. So lay down. Put on your headphones. Relax. Listen to My voice. Absorb My words and let Me seduce you into Trance. Repeat after Me: Obedience is Pleasure. Obedience to Domina Shelle is Absolute Pleasure.
Let's take out 2019 in COMPLETE HYPNOTIC BLISS!
A HAPPY 2020
It was a wonderful Christmas! Thanks to you!!! I had an amazing time with My family! PLUS, what an amazing time with the family that we all adopted. There is nothing like seeing children HAPPY!
Thank you for all your Christmas gifts. I'm overwhelmed and so pleased how well you have spoiled your Domina. ~giggles~ It does make Me feel appreciated for all that I do for you. It feels good to be LOVED!
Did you enjoy your Christmas presents?
***Lady Helena sends Her greetings and thanks for your thoughtful Christmas presents. If you sent a gift to either ME or Lady H and We have not contacted you, email Me or Helena so We can thank you.
NEW YEARS EVE
Now that W/we are "family", W/we will keep O/our New Year's Eve traditions. Remember your Domina with your last thought of 2019 and at midnight lift a toast to your Princess with your first thought of 2020: you are a slave to Domina Shelle. I am your addiction and ​your desire. Email Me or TEXT Me, so I know that you are thinking of Me. HAPPY NEW YEAR!!!!
Let's make 2020 even more AMAZING! Make your resolutions, such as complete submission and strict obedience to your Domina. Make this a healthy year, exercise, eat well and lose weight if you need to. Let's FOCUS! LET'S get INVOLVED! LET'S BE OUR BEST!
UPDATES
I'm thrilled with the amazing painting that you gifted Me through Challenge to PLEASE. It is framed and hanging NOW!
It's so beautiful, it took My breath away and literally made Me cry tears of joy. Your contribution has PLEASED Me so very much.
Later in January, Re-Form SCHOOL Class #15 will be a followup to slave Weaver where I foretold your fortune. I will give you a class lesson on your future, so you'll be prepared for the opportunities I will give to fulfill your destiny.
NEXT WEEK
Next week I'll bring you into a different kind of hypnotic BLISS....wait and see.
My special deals this week:
Blanked --
A COMPULSION. Another step DEEPER into your MIND and into My control.
Behavior Modification --
A compulsion...highly addictive MIND FUCK. you NEED and DESIRE to listen...
Hypnotic Encounter --
Have you wondered what might happen if W/we were to meet, what I might do to you?