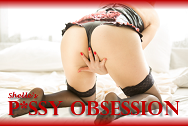 Listen to the TEASER ...
You know how much I care about you, My puppy.  And this week with P*ssy Obsession and addiction, I'm giving Myself to you.  All of Me, as I allow you to get physically closer and more intimate...My legs OPEN to your wet mouth.
Think about what motivates your devotion and service?  My words trigger your imagination, but what emotions for Me intensify your arousal and pleasure?  If I am to be intimate with you, it will be because you are offering your Domina ALL your love and devotion.  I will mesmerize you and penetrate every part of your being.  The incredibly hard arousal, the pleasure of obedience, the craving to please and pleasure Me are just a happy by-product.  I truly am your Heavenly Body.... P*SSY OBSESSION is a perfect part of this series which began with DANGEROUS PLEASURES, then last week's BLIND DOMINANCE.
But it is not the end of O/our affair.  After work this weekend, I am making Myself available if you are seeking an additional follow-up encounter with your Mistress after you listened to this week's session.  Let's schedule your LIVE Appointment.  Come with your collar on.  Clothes, not required.  Fantasies are welcome.  I'll leave the key under the welcome mat.  Walk straight to the bedroom.  Let's talk live...kneel at My feet and I'll allow you to...well, call Me and see.
Unethical Therapist---available this weekend for CONTRACTED...along with your NEW TRAINING session.
Next Week
Next week I know exactly what you need and want because I know what's best for My puppy.  A time to recharge and stay focused on pleasing Me.  Obedience is such wonderful pleasure when it is your ONLY desire!
Check these special deals ...