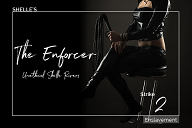 As expected, you couldn't wait to find trouble and get re-arrested by O/our Unethical Cop, Sheriff Shelle, in a completely new and more exciting encounter, The Enforcer - Strike 2. Subconsciously, slave has been eager to be dominated and sexually controlled, craving the experience of another erotic hypnosis induction taking you back into deep pliancy. The male mind needs to be disciplined for its basic weakness always under the control of the male sex organ. I happen to be very skilled at using that particular organ to get what I want....how to punish and arouse at the same time.
Make no mistake, law breaking bad boys get punished and taught a lesson. Discover how arousing it is to be used for sex, pleasure and amusement, submitting to "pain", as We break Our prisoner down into mental and physical subjugation. you have NO choice. This feeling of powerlessness is a submissive's dream cum true on your journey to deeper, more powerful levels of hypnotic submission and enslavement.
To your surprise one of Sheriff Shelle's strict disciplinarians becomes very helpful.
There are TWO versions of this audio session:
A: EXTREME/with male scream effects...NOT for everyone. Perfect for Voyeurs. This version will push HARD LIMITS.
B: Laced with My silky voice and very effective Binaurals, you will love the teasing WICKEDNESS as I push your LIMITS.
NOTE: No males were tortured while creating the EXTREME session...at least not by Me. Haha...They are purchased effects only. My sweet, BE AWARE---This session is POWERFUL and again EXTREME, at least for your sweet innocent DOMINA. ***GIGGLES!
UPDATES
I have a delicious treat for My puppy (Now Available). Surrender B for Me and beg for your HOT, HOT, HOT treat. Here puppy! My Pictures. you may have seen a preview on Twitter.
See, I need clothes ~giggles~ so Dress ME, and get additional private pictures.
Lab Rats, watch your emails for the next step in O/our Experiment.
CONTRACTED slaves---I am pleased to see that you are on top of your LOVE commitments to your Domina. Watch your box for a SURPRISE coming early for March. I think you will be very HAPPY and filled with PLEASURE!
With just one month to go to reach My savings goal for retirement you can be so helpful to Me with even a small Challenge To PLEASE contribution.
NEXT WEEK
Weak and helpless, unable to resist My suggestions....Overwhelming you with pleasure.
My special deals:
Addiction is a Bitch --
I love mind fucking you, and progressively My control over you is becoming stronger and more pervasive...
Under My Control --
This session will leave you in a very deep and sexually euphoric state of mindlessness...