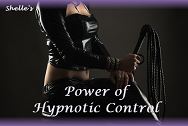 My pet, as O/our relationship strengthens and you are finding yourself more secure and happy with your place in this world I have created for you?  More and more real.  More and more arousing.  That's what I have been planning for you.  With this week's brainwashing Power Of Hypnotic Control, I take a firmer GRIP on your mind and c*ck.  I like you so suggestible and eager to please Me.  Don't forget that repetition is the law of hypnosis.  At My feet...Deeper under My Domination and control...More deeply BRAINWASHED.
This is what I do to you.  This is what W/we want together.  This makes U/us closer and closer.  That is why you must listen to this session...It is so hott and I will take you so deep...I can tell that you need it now, don't you.
Of course you do.  It will be only a few minutes before you lay back and listen to My mesmerizing voice hypnotize you.  My words will feel good to you.  My words are irresistible to you.  This is why you will be compelled to listen.  This is your Compulsion.
you just love listening to My voice and powerful words...falling for Me.  Needing to surrender, you obey and submit to your Domina's control.  I know what you want and need...It's what I want--- this submission to Me intensifies your arousal.  you know it pleases Me when you c*m only for Me.  I give you the pleasure of obedience and the arousal of servitude.  When you feel the adrenaline rush of your next orgasm, realize how much more explosive it is, under My control when you offer it to your Domina with My name on your lips.
you come to your Mistress to fulfill your needs and desires.  And I do.  I am there for you.  And now you ask:  Am i doing all i can to serve and please My Domina?  Next week, I'll show you how you can do exactly that for Me. ~giggles.
LET'S GET PERSONAL
If you have NOT been personally collared as My slave, listen to My slave's Life. you have gotten to know who I am.  Is the idea of being collared and owned by a powerful, sexy Domina something that fits your submissive nature?  If you are interested in exploring the possibility of committing yourself to Me, email Me about your interest in serving and being collared and W/we can discuss it.  This personal connection with its intimacy is a strong bonding experience.  At your collaring I want to hear you plead with Me to take you, to offer your submission and obedience to My Domination.  Give Me your love and devotion and I will declare that you belong to Me and I will take you and show you the personal joy of submission and obedience to My control.  Put "joy" in the heading and let Me seduce you.
UPDATE AND NEXT WEEK
your Domina and Helena have been busy with some new projects to keep you hard and horny to please Us.  I am going to keep Her very busy keeping you in hand.  Speaking of hard and horny, Her new session will be available next week.
I wanted to say something more about the TOYS store.  I decided to make it available on My website since I will be working more with Lady Helena to open the chamber doors to My Dungeon and invite you in.  So, I want you to think of all your deepest fetishes prepared to submit to the dominatrix of My Dungeon.  There may be times when Lady H. will want a particular sex toy to torture more pleasure out of you.  It may come in handy when I just might want to play with you.  And now so easy for Me to help pick out just the right collar for you. ~giggles~
In NEXT week's session, I'm going to play with you in a different way.  Toy with your conscious and subconscious mind.....with just the sound of My voice surrounding and smothering you in the softness of a deeply pleasurable hypnotic induction and sleep.
Check out My special deals ...