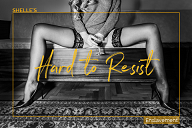 --- Listen to a Sample ---
My pet, I'm not going to reveal too much about this week's session, Hard To Resist, except to say I will lead you wherever I want you to go....you will fall into an extremely erotic HYPNOTIZED TRANCE.  This session is a POWERFUL HYPNOTIC brew that dulls the mind and infatuates the heart.  My words have the power to influence you, to lull you into a submissive state of acceptance, unable and unwilling to resist your inevitable enslavement to Me.
A few words that swirl around your brain will add to the mystique and feeling that you've been here before.  This will put your mind at ease, and you TRUST Me.  A suggestion of being so close to Me will be impossibly stimulating and just underlines how conditioned you are to My voice, My will.
Being lost in My words is not a new experience but this session sows the seed that other-worldly forces are involved...and you realize there is no escape from My control, there's only acceptance and a need to submit further.  This session will catch you off-guard and, for many, will result in an even deeper experience.  Don't worry, you are always safe under My watchful guidance.
you're mine because I've willed it to be so.  That's what Dominant Women do with good submissive pets, We claim you, We train you and We subjugate you to fulfill Our needs and desires.  And you are a good submissive, My pet to be precise, because you're lost in your desires...lost in NEED and Addiction. (giggles)  I keep you hard and aroused, attentive and compliant, devoted and loyal.  Hmm, put your hands in your pants, touch it, I bet you're HARD and AROUSED now for Me, aren't you?
Listen to this session because I am telling you to, without knowing exactly what is going to happen to you.  Just close your eyes and follow Me, I have so much planned for you.  I am so irresistible. you are WEAK when you are deep in trance...Yummy.  The rush of pleasure I give you makes it so easy for Me to take control of your mind, emotions, willpower and c*ck.  That's all you need to know.
PINK SLEEPING FOREST---watch for it.
My pretty sissy gurl, I am taking you on an adventure.  I have opened up a special beautiful path for you in My Sleeping Forest.  It's a magical, enchanting place which I have infused with a comforting PINK MIST.  Forest critters greet you.  At the center is an inviting pond bubbling with transformative powers.  I have surrounded you with love and joy for your feminine sexual pleasure...My pretty gurl, you will always come to your Princess to guide you through your stimulating journey to achieve ultimate feminine fulfillment.
I am planning to bring you back to the Sleeping Forest by continuing a new series of Forest sissy adventures.
UPDATES
Volunteer Assignment is one of the very best ways I feel connected to you.
your loving and giving support really touches Me.  Soon, I will be adding a new Category of support for Lady Helena who has been so important working for Me.  I want to give you the opportunity to be helpful to both of Us.  If you are interested email Me.  Remember the 15th is your release date.  Listen to this week's session as you do....and SURRENDER C.
NEXT WEEK
If you want to know why it so easy for a Woman to control a man sexually?  Find out next week.
Come check My special deals ~~~