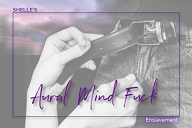 My sweet, W/we all need a distraction this week and I planned it perfectly for you. So go NOW and click and download. Then you may come back and read the details. Giggles!!! I just love you in complete OBEDIENCE to Me.
It's play time, My good boy, with this week's file Aural Mind Fuck. you know, no matter what your POWERFUL Domina does, She always comes back to Her area of EXPER-TEASE. With this week's two sessions, I'll throw My slave a few curve balls (giggles---blue ones)... As always, listening to My voice gives you that surge of submission and obedience that comes so naturally to you, craving My Triggers for pleasure and arousal.
This EROTIC HYPNOSIS mp3 is INTENSELY HYPNOTIC and ready to blow My slave's mind from a deeper trance...how deep, weak and helpless can you go? I will have your c*ck and balls aching for orgasm, but what will happen? Stimulating your imagination, I conjure up the perfect Woman, not once, but twice. Will She drive you mad with LUST...or will you be left DRAINED in the dark? Oh cum on, I'll never tell... you know that I don't give it all away...what's the fun of telling you what I have planned? So, relax and submit to be mesmerized, teased and seduced...yes, I will seduce you. I am properly conditioning and enslaving you, controlling your mind, your c*ck, your pleasure. The more you listen to My voice the more you want to serve and please Me, SO buckle in for a wild ride.
INSTRUCTIONS: you'll receive two versions. Saturday, listen to the chastity version. Then on the 15th, VOLUNTEER Day, listen and obey the release version.
VOLUNTEER ASSIGNMENT
So easy to serve and please when you are My good boy, isn't it? you naturally obey when you are in trance and not in trance because it's what you want. It's who you are and need to be for Me, wanting to please and serve your Domina which you do with your monthly Volunteer Contribution. you may listen to the new Aural Mind Fuck and release or offer your denial, My baby.
Updates and your GIFT:
I want to reassure you that your Domina is doing everything She can to stay healthy and I want to help you do the same. I know that this is a crazy time for all of U/us. I think that W/we are all sharing the same fears and the real LIFE changes that are taking place. I have talked over the past weeks about a healthier way of life, changes that W/we can experience together. Making one small change at a time and accepting it as permanent lifestyle change. Well it's time. I did not know that we would be RUSHED into MY PLANNED agenda. So RIGHT NOW TODAY W/we will begin. Download your Assignment now and OBEY My words. I always look out for you and your well-being.
Contracted, I have a new SFS slave story posted. you'll find a very interesting slave analysis about the many roles your Domina "plays" to get My way with you. Thank you all for the wonderful stories and essays. I'll be adding more, so don't worry if you do not see yours yet.
On March 17th everyone is Irish. Happy St. Patrick's Day!! I'm wearing green panties. How about you, My sissy slave? ~giggles~
NEXT WEEK:
Will be a surprise...
My special deals for your pleasure:
Paralysis-Carnal Desires --
Listen and allow yourself to open up to your own CARNAL DESIRES.
Sexual Manipulation and Sacrifice --
you want to be manipulated and abused by your Domina.