As a reward for being My guinea pig in last week's experiment (that was so f*cking funny, you have to admit), I am transporting you to a place of SEDUCTION, stimulation and euphoria.  This is something I do extremely well...erotic hypnosis and seduction, I am the EXPERT.. and something you love to be....at My disposal...suggestible, submissive and obedient...too weak to stop.  With this week's Seduction Trap, you will obey and just relax, put on your headphones, close your eyes, let My magic work its wonder.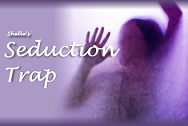 you will melt at My feet.  Experience an increasing state of pleasure.....Feeling so weak and powerless as I probe, provoke, unbutton and expose My.......... I'll find your weakness, the one thing that makes you vulnerable and I'll use it against you. Giggles... No point in sugar coating it...this is what I do and what you allow Me to do.
LADY HELENA
Just for fun, I thought I would share you with My slave Girl, Lady Helena.  Being submissive to her is being submissive to Me, she is Mine too. Yummy.  Listen to Her new session Paranoia.  Unless you are afraid of all that you have heard of her wicked ways.  I allow you to follow Her instructions and experience this Dominant Woman...Just read the DESTRUCTIONS and watch around the corners, before moving forward. LAUGHING!
And as a result of listening to Her file, another subject comes up.  SURRENDER CD.
UPDATES AND NEXT WEEK
I am serious about wanting you healthy and fit.  I'm counting on you to live a long life because I'm going to retire on your TRIBUTES.  PLUS who will run the farm....~giggles~  A Princess can dream, too.  Really, I want you committing yourself to eating healthy foods and exercising as a part of everyday.  Try this Exercise Loop.  I've had sign-ups for My Monitoring and you should have gotten My first email.  I look forward to your commitment to succeeding on losing weight.  I'm even making a spreadsheet to track your progress.  So W/we are going to make this an early part of your New Year's resolution......To please your Domina and lose weight at the same time!!!!
If you have a FITBIT contact Me to be My friend...I can really watch you this way.
I know you are preparing something special for Me, so I don't need to remind you that Christmas is approaching and to start saving up for it now. ~giggles~
Twelve Days Of XXXmas Assignment GIFT
Have you ever heard of a hard candy Xmas...Well this Xmas will Be a HARD c**K XXXmas.  I can't promise that you will cum down anyone's chimney, but you will have an amazing sleigh ride.  So hop on...Join Lady H and your Domina for a sexy 12 days of XXXmas:
Christmas-2017 assignment download
Christmas-2017-sissy assignment download
This 12 days of XXXmas assignment BEGINS on MONDAY Dec 11 and ends on Dec 22.
Check My special deals ... also includes Christmas assignments files!