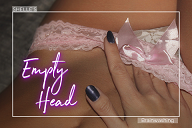 Have you been thinking about your sweet Domina all week, My love slave? Good boy. Well, this week I'm going to expand your hypnotized mind to see Me a little differently in My Bedroom---EMPTY head. Let's get sexed up! you've naturally come to Love, Honor and Obey Me and look forward to all the different ways I have to bring you deeper and deeper into the life you were born to live. you have Me, now at the center of all your dreams and desires. Imagine staring at me, paralyzed, sleeping with your eyes open as you fall deeper and deeper for your Domina.
So, get comfortable, relax and open your susceptible mind, so weak for Me, to another journey deep into that subconscious mind I own and control. I have something very exciting for you to focus ALL your attention on. your sweet Princess and dream girl has a Body to die for. So much to obsess over, to fixate on to make you hard and horny. Let's fan the flames of LUST and Desire and indulge all your wicked desires...Desires mostly implanted by Me. What's your favorite? Every inch... tight, curvy, sumptuous, seductive.
If you haven't already, this week you will focus on My body, and Lust after your POWERFUL HYPNOTIC Dream Girl and fall deeper under My spell so that there isn't anything you wouldn't do for Me. I am your Everything. you need my control more than ever. When you are so weak and horny for Me, serving and pleasing Me is all you need.
Doesn't this just work out so Perfectly, My sweet? I mean, I have every right to MindFuck you anyway I wish...I always get My way. Giggles!!!
UPDATES
Thank you, again, for all your support and good wishes. And you can continue to help Me as I shift My focus to My upcoming trip back to Tennessee. So, anything you send to My Challenge to PLEASE will be greatly appreciated. I hate all that eating out! I am trying to cook more in My room, both on My indoor grill and in My crock pot.
NEXT WEEK: Bound and Helpless again.
Here are My special deals ---