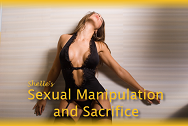 Close your eyes and think "Stimulation, just think about what that means ​to you.  Then think about the word DEPRIVATION....how does that make you feel?  Now think about a "Manipulation", what do you see?​ ~~~GIGGLES~~~ Doesn't every man dream of a beautiful young, SEXY and POWERFUL Woman controlling and manipulating him in every way​?  Now unzip your pants again for Me and just stroke for 2 minutes and STOP.  Isn't that hot, so hard that your mind is BLANK.  Two things that I love ​for you to be My puppy, hard and BLANK.  Now keep reading, if you can.
you love the pleasure of being aroused when you are able to surrender yourself in total obedience to your Domina, don't you?  Trust Me.  I know what you need, My pet.  This week with Sexual Manipulation and Sacrifice I give you the pleasure of falling so deep for Me.....deep in agony, that is....your DEVOTION motivated by My POWER of control....fulfilling all MY desires.
Just think, Me in control, your balls full and aching...It could go either way.  With My erotic power I could STIMULATE you into horny helpless deprivation...or I could allow you an explosion, that pulls you deeper into My desires for your future.  you just love it when I tease you, don't you.  YES, I know you do. ~~~Giggles~~~
Give in to your Compulsion and let Me teach you true sexual ecstasy.  Listen NOW!
Valentine's Day is coming so you can express these feelings in a REAL way to the Central Woman in your life.  No one makes you feel as good as I do.  Feel the pleasure of making Me happy.  you want what I want....and I want ALL of you, all of your mind and body.
MASTURBATION CONTROL CENTER
It's all finally cumming together, you have reached a higher plateau in O/our Mistress-slave relationship.  your ultimate submission.  My absolute control.  Something W/we both want.  Arousing and pleasurable for both of U/us.
Now imagine, waking up in the morning, aroused with thoughts of Me...you reach down feeling your manhood so hard and thick...If I ask, will you fasten your collar and stroke for Me, owned and controlled?  your "mental" collar lets you know that you belong to Me...as you slide your hand up and down, you are doing this for Me.  Offer Me your pleasure... Imagine Me there to finish you off, My hand over yours....Feel the craving to please your Domina..... you are My slave, My submissive and with the UPCOMING Masturbation Control Center, I will be able to acknowledge your devotion and obedience. (still under construction)  Watch for DETAILS!
COMING SOON
Finally, next week I expect to have My SFS survey/quiz posted on My contracted site.  I'll be preparing you for Valentine's Day, an important day for THE woman in your life.  So prepare yourself to make a good showing of affection for Me, the Love of your life.
I may take you into My Playground with all new exciting Commands.  Or maybe mind control games.
Check out Lady Helena's new release, A Dominant Invasion.
Check special deals ...