This week concludes The Brain Chip installation.  Testing the functionality of all the components are completed with this week's BRAIN CHIP--Simple Logic.  It's complicated, so no deep understanding of the terminology like Memory Suspension, Artificial Intelligence, protocols, or Simple Logic is required.  Trust that everything will work more smoothly than ever, My pet.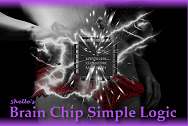 Yes, I know you already love to obey and submit and surrender your control to Me.  you serve and worship your Domina.  you work Hard to please Me, to take care of Me and make Me happy.  Now with the Brain Chip, you become even more receptive.  Obeying becomes so much easier than it is now.  Through the Chip, My instructions become clearer as your thinking becomes more "intuitive", since it is My thinking.  your desires and enslavement deepen.  That means you will find the very best way you can to be obedient and submissive to My control.  So, listen to Reinforcement and Obey!
SIGN UP to receive all My future Implant Triggers.  My subject will Activate and be rewarded with the many commands I will be Implanting.  you will know exactly how I want you to perform your tasks to serve and please Me, to surrender all control, to take care of Me the best way you can.  Are you up to handling the pleasure?
UPDATES
In case you missed it, Lady Helena has a new release, Hypnotic Chains.  As always She takes you to the Edge of your limits.  Are you ready to submit to My slave Girl?
If you signed up for the FARM ASSIGNMENT, thank you, again.  I know you enjoyed it.  I am in the process of emailing your free "Reward" Assignment, for being My good boy.
SFS contracted slaves look for a SPECIAL REQUEST as part of this week's blog.
My special deals this week…
I Am your Mind --
I am becoming MORE POWERFUL, more INFLUENTIAL over you.
Princess Spa --
My sexy voice and silky long fingers will massage your mind and take you away to My world.
Lucid Dreams--DOMINATION --
My WICKEDNESS taken to a whole new level... "Control" over you is too powerful to resist.