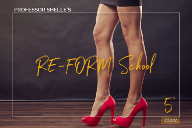 When you hear My voice slipping the words- accept, yield, consent, comply, capitulate, surrender do you ever wonder why it makes you feel so excited, My student? Take your seat in the front row. Wear your collar and little else for this month's: Re-Form School-Class #5. W/we are going to explore SUBMISSION, the nature of your unique submission.... your submissive needs and desires. I have given you the luxurious pleasure of always being able to give ME your submission, that condition and state of mind which is the driving force in your life, now that I have chosen you as Mine.
My sweet, your submission to Me triggers in O/our Dom-slave relationship. your service and obedience, the arousal of pleasing Me, your love and affection....And I accept and encourage your submission. Let Me tell you how everything fits together so perfectly, just as I have planned it for you, My baby....Domina always knows best.
So, relax and pay attention to My Re-form school lesson, helping guide you to be the best slave you can be for Domina. There will be an assignment to confirm what you have learned about your submissive feelings and needs....your special way of expressing them to Me...This will help your Professor with future training lessons.
UPDATES
This week's release session choices for the 1st of the Month are The Puppeteer and P*ssy Obsession.  Choose just one. I will be making a change with My general release permission policy for the 1st and the 15th. The 1st will remain the same for My contracted, and the 15th the same for all Volunteer Assignment helpers. I will be communicating directly with you. Anyone else who needs or is seeking permission to release then or at any time, just get in touch with Me....and I will allow you to "beg" for your release with a Stroke Tribute. Don't you find it more exciting that way?
Contracted look for a new SFS slave story. Plus your NEW training is coming soon.
WEBSITE
I am expecting to have the New Website up for the New Year for the start of a great 2019 W/we will have together. How time flies when you're having fun.
NEXT WEEK
So many things to do with your mind. Maybe I Erase it and start all over, molding it just the way I want it.
My special deals ...