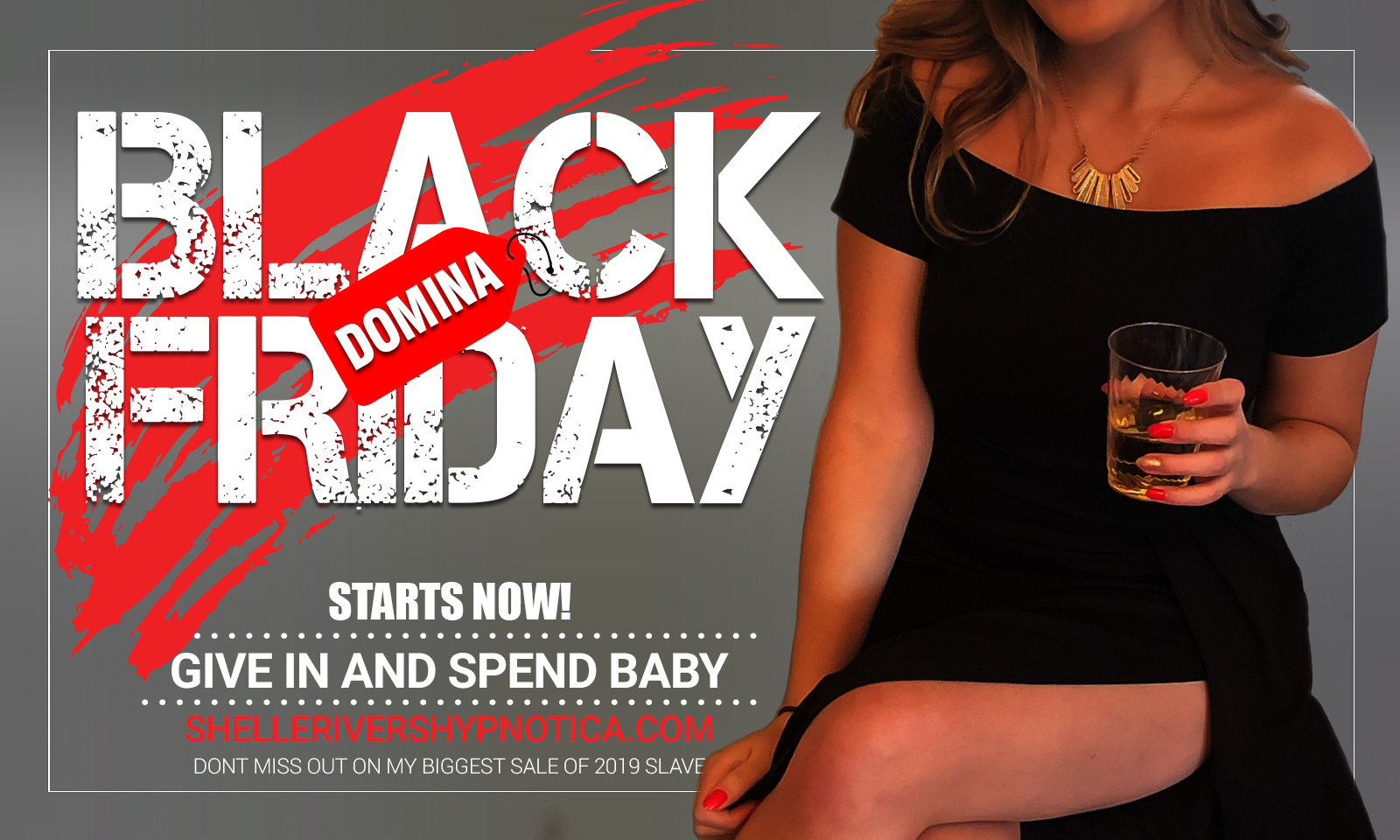 Thanksgiving is the time to reflect on the good things in O/our lives.  This is a time for families to get together and celebrate.  There is so much for U/us to be thankful for.  I'm thankful for you!  Thankful for your love and devotion!  Awwww, I know you are MOST thankful for O/our Domina-slave relationship and having Me in your life, everyday, as the Object of your desire and fantasies...My voice training and brainwashing you and the pleasure you have when you serve and please Me.  I wish you an amazing day!  I am with you and inside you.  Happy THANKSGIVING!!!!
Black Friday starts NOW and ends Saturday, Nov 30th at Midnight EST.
My sweet, for BLACK FRIDAY shopping look at My very SPECIAL DEALS and choose those package sessions you always wanted!  There are several surprises in Special DEALS (these are marked with the actual sale price and are NOT included in the BUY ONE GET ONE FREE deal.  All other individual sessions on the Website are buy-one-get-one free...Buy 5 get five...Load up on My HYPNO-BRAINWASHING (with buy-one-get-one free, you get free session EQUAL or lesser value).
GIVING THANKS
We (you and I) are sponsoring a needy family again this year for Xmas.  Actually, I took a basket of food already, some can items, fresh fruits, turkey etc.  It's heartbreaking to see families with such hard times.  Plus, I have already purchased an outfit or two for each child.  I want everyone to have a special holiday.  Check out the Wish List (I added a few toys there) if you want to be a part of giving to these sweet children.
RE-FORM SCHOOL- THE EXPERIMENT
My lab rat, you are almost finished Professor Shelle's ReForm School for Boys with this CLASS #14-The EXPERIMENT.  W/we have had so many intimate experiences.  When there are over extended periods of time like The EXPERIMENT or Loc-Tober Chastity, you feel so much closer to Me and everything about O/our Dom-slave relationship is intensified.  Doesn't it feel so good to love your Domina, to obey and serve Me?  Good.  Then My plan for you is working. ~giggles~
I will share with you, your reactions, your changes over the 6 weeks and the needs you expressed in your Experiment journals which I reviewed and enjoyed reading.  I will give you the results of the Experiment along with My conclusions.  This is a unique class session.  In addition to the lesson, you will be experiencing the EXPERIMENT, again, all 7 days in one session.  I want this class to be special for you, My useful lab rat.
For those who pre-purchased, I'll email you Friday when the session is ready for you.
UPDATES
Oh My, I can get ambitious...too ambitious.  The 2nd secret session that I mentioned last week, well it's going to wait another week.  It's Thanksgiving and I do not want to overwhelm your sleepy mind.  Plus, it's not perfect yet...haha
***But, don't you worry, My sexy lil sissies, I'll have your session ready (I'll send TWEETS when it is on the website).
CONTRACTED slaves---November session is going to BLOW your mind...I don't want to ruin the surprise....I plan to have the session either Saturday or Sunday.  Thank you for your loving patience AGAIN!!!  I'll send your session as soon as I have the V**** finished...whoops, I almost said too much.
OH, did you see the NEW pictures that I added to SFS site?
NEXT WEEK---well let's wait for those details.
My Special Deals.....Shop for your Black Friday deals and Buy-One-Get-One!