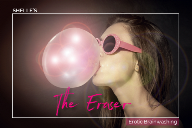 After last week's Re-form School class, cum with Me to a sensual and seductive special place I have created just for you.  Helpless to resist its seductive power, you feel so weak and obedient to the erotic HYPNOTIC pull.  you see, My pet, this week's Mind Eraser feeds on your submission and SUCKS your brain...you do like being sucked DRY, don't you. ~~~Giggles~~~  My slippery sweet words will penetrate your subconscious mind.  Prepare yourself for a full body and mind experience.  Swirling and heaving.  Sucking and teasing.  Flowing and controlling.  Caressing and arousing.  Permeating all of your senses.  No resistance is desired or even possible...
Follow this long pleasurable journey I transport you through to its seductive climax.  This is the intense pleasure of addiction.  Taking you just where I want you...Thinking of Me all the time......I am your addiction and your relief.  Consider this My gift to you.  It's just the beginning of the Christmas holiday gift giving season.  This is going to be a very good month, a PERFECT end to one more exciting year together.  I'll have you trained and ready for an even better year...2019.
Note:  If you have been with Me for some time and listened to My amazing sessions from days gone by, you will find that this session will bring back memories of a past mind suck.  It's amazing where a few years will take you....a perfect JOURNEY!  Perfect for anyone!!!
UPDATE
I will be in touch with all My Volunteer Assignment participants with a message and gift, with a little reminder about the 15th.  Look for My email.  My NONE Volunteers if you seek release for the 15th, you may beg your Domina in an email.
A change in My schedule...Due to ongoing work on the Farm House to get it fully ready and accessible and still working with storm damage here in NC, We have postponed Our trip until January.  This is when I'll have the new FARM Assignment for you.  I'll keep you posted.
I expect the Grand Opening of O/our new Website in time for the new year.  This will be your last opportunity to assist your Domina with the final payment through Challenge To PLEASE.  I REALLY appreciate how you've come to My aid throughout the year and taken some big financial burdens from Me.  Thank you.  you make this all possible for both of U/us.
NEXT WEEK
Back in school next week with a Holiday addition of Re-Form School Class # 6- Responsibilities as a slave.. Just making you more perfect for Me for the Christmas season.
Check My special deals ...