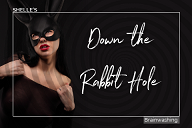 If you are BRAVE and COMMITED you will follow Me Down the Rabbit Hole ...
What a wonderful time back home. So good to see family and friends, taking time away from My hospital shifts and still keeping My firm grip on your mind and body. ~giggles~
Speaking of which, this week's session is a TRUE MIND FUCK. I AM NOT KIDDING...THIS IS A HYPNOTIC MIND FUCK, so WICKED. If you usually find it hard to fall, this one will have you in CONFUSED HYPNOTIC blackness in no time…So let Me relax you to experience the power of magic, My Magic Power in MY WONDERLAND... if you have the guts, FOLLOW ME "Down the Rabbit Hole".
Take your wildest thoughts and MAGNIFY them by 100. I will take you truly on one HYPNOTIC MIND FUCKING JOURNEY that you will never forget...you may even ask yourself HOW did She come up with ths? All those little creatures in My Domain...I will unlock your imagination and let My words fill your open and obedient mind. you love the pleasure of obeying Domina. So, don't hesitate to follow wherever I lead you, My pup. you love doing what you're told.
Go ahead and be brave. Take a peep down into this rabbit hole. A true journey of deep hypnosis into EROTIC MIND CONFUSION. Yes, every week I do My best to play with you in a sexy hypnotic way...but this one is a MASTERPIECE OF TWISTED MIND FUCKERY! I deserve an AWARD.... And your REVIEW.
My Summer Sexy Pics are available for your viewing pleasure in case you missed the posting last week.
UPDATE
If you can imagine ME swimming in the small lake with all the snakes and turtles, as they are amazed at My presence, well it's beautiful. The same places My brother and I would sneak off to every summer afternoon. Usually Me on his back running through the fields to just DIVE in together. I sure do miss that, but the memories are amazing. I'm in heaven. Nights are filled with homemade ice cream and amazing food. Then the campfires and sharing of memories of growing up on this farm. Not to speak of hanging out with the same boys I took lunch money from….bet they don't share that with their wives. Giggles.
SECRETS are fun...and I see their looks and smiles, I know they love every memory QUIETLY. This has been a GREAT escape. Moving back here is all I can think of now. My dad is HAPPY here...the place he needs to be as well as I. I'll keep you updated. Oh, My Internet and phone signals are terrible....so if I am a little quiet, well go and listen to this week's MIND FUCK. Do NOT miss this one.
NEXT WEEK
I know you've been begging Me, so I'm going to grant your greatest desire and see just how horny you can be before IGNITING ~gigles~ Just wait and listen to the FIRE I ignite you know where.
Check My special deals ...