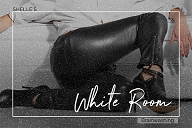 My submissive Love slave, My soft, sweet voice is calling to you every moment of every day, always slipping you deeper and deeper into your Domina Shelle. you are addicted and can't get enough of My mesmerizing voice. This week, I have a very special place to take you, The White Room, a place of infinite possibilities, where you will vividly experience everything I have in store for you. Here I can make you see, hear and feel whatever I desire. I can play however I want to and all you can do is simply submit to My increasing control of all aspects of your life as My true submissive.
My words penetrate your mind and brain and put you into a deep state of submission. Sink into My White Noise and re-enter the Mesmerizing Abyss of mindless bliss. you need Me in your life. Each week, you return to Me, mindless and blank, craving more of My conditioning and training. you become more and more pliable and susceptible needing My constant attention, begging to turn you into the very best servant, the most useful submissive that you could possibly be for Me. Embrace your destiny to be My obedient owned slave who lives to please and serve, making you MINE forever.
DOMINA'S BIRTHDAY
And the very best way to please and serve is by making My Birthday your #1 priority. You know how important it is to Me on My Birthday to receive all the Love you have to give. Three weeks to go. Put just a little aside every week for your BIRTHDAY Gift to send Me to the beach for a quick 3 day getaway for sun, sand, surf, oysters and bikini pictures for you, My love slave.
UPDATES
Contracted, look for a new SFS slave story coming later this month, of one loyal slave's wet dream. ~giggles~
NEXT WEEK
Next week, enter My Castle of Control where your dreams become real when you obey without thought, without question.
My special deals have changed:
State Of Submission --
Be your true submissive self for your Domina...
Hypno Toy'd --
Playing with My Hypno Toys is so wickedly fun...
Hypno Toy'd Sissy --
Come, My Sissy Hypno slave toy...
Twisted Cinderella --
The TWISTED Cinderella will give you nightmares of pure pleasure...