Body Worship - My Sexy Feet
Feel Me seduce you with MY sexy feet...
Description
Level: Moderate
Length: 37 minutes
Category: Mind Control-Erotic-Fetish
Sample: LINK
Feel Me take you with this sexy seduction...sit at MY feet, this is your place My pet.  Welcome to your NEW place in My life.
You are already addicted to My voice, and have surrendered to My words—now it is time for you to worship my body ***Giggles***
Get comfy, lay back and feel ME take over!
Product Download
Body-Worship-My-Sexy-Feet-lqidm84z.mp3
Body-Worship-My-Sexy-Feet-lqidm84z.mp3
Shelle-Sexy-Feet-Pic.jpg
Shelle-Sexy-Feet-Pic.jpg
Reviews
Tuesday, 13 September 2016
When i think of Domina's sexy feet i take a short cut right to the edge. This is so hot, it's like a dream come true.
Friday, 19 August 2016
When I first massaged a girl's feet I was 17 years old. We were on a party when she confessed that she enjoys foot massages a lot and I immediately outed myself to be very very interested in doing it for her. So she got a chair and I knelt down and started to undress her cute petite feet. "So easy" I just thought to myself when she interrupted me! "You are doing it wrong!" and in front of the party she instructed me to just hold her foot in one palm of me hand and gently caress the topside of her feet with my other hand. To hold her foot and stroke it was already heaven, and the fact that she corrected my how to do it right gave the whole scene a dominant and submissive touch – best time in my life so far! After that scene I educated myself and purchased books on therapeutic and erotic foot massages. She still remains unique in her preference for the "top side only" massage.rnThis scene came to my mind when I listened to "Body Worship - My Sexy Feet". I go deeper and deeper - And with each circuit af going into trance I am instructed to engage in a more and more intimate contact with Domina's sexy feet. First with my hands, than my lips – finally when my tongue touches her skin for the first time under hypnosis I could even feel the texture and warmth of her skin. So erotic and arousing: mouth and toes and hands and heels and lips totally entangled in an explosion of lust. This file ended too fast – I still blush when I remember how I explored every curve and cleavage and wrinkle of Her lovely toes!
Tuesday, 22 March 2016
i already was addicted to Domina's sexy feet before i even listened to this file. Now it has become even stronger... a craving, a fetish... the need to worship Her beautiful feet and each of Her sexy lil toes. my desire to lick, to kiss and to suck on them is overwhelming. i hope to taste Her feet once for real... but even if not i have a most arousing fantasy inside my weak mind.
More reviews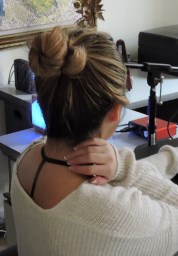 Get Updated