Brain Fried
An erotic and sensual experience...But, with a little twist of fate...
Description
Category: Chastity-Brainwashing-Mind Control--Erotic Hypnosis
Length: 40 minutes
What is your deepest fantasy about your Domina?  An intimate night with Me alone, naked and compliant, as you allow Me to hypnotize you, having My wicked way with your mind and body?
Well, My sweet, I have a secret to share with you that will bring us even closer together.  To share this most intimate and sexy desire with you I need you to totally trust Me, allowing My hypnotic whispers and seductive touch to gently caress your body to the point were you are utterly mindless and aroused beyond anything you have experienced before.  At this point, when you are pliable and under My complete control, I will share my personal fantasy with you!
This revelation will fundamentally change your life and the very nature of O/our relationship.  It may be so HOT and make you so HORNY that it may just fry your blank submissive brain (Giggles).
Be assured and warned, My baby, that after this session you will be bound to Me so tightly, so consumed with desire, that you will understand what total obedience truly is.  you will love every exquisite moment...
Product Download
Brain-Fried-(c)ShelleRivers.mp3
Brain-Fried-(c)ShelleRivers.mp3
Reviews
Thursday, 19 July 2018
The name of tbis file is very appropriate. If you read the name of this file and you are filled with excitement and maybe a little fear you should give into your desires and listen to it. I promise you will not be disappointed.
Tuesday, 30 January 2018
This intensely intimate session with our darling Domina binds you closer to her, as she describes. The encounter is squirmingly sexual, and your resulting condition will extend way beyond the end of the file. Domina makes it very clear how she likes you to be, and with her endless charm and blunt honesty shows you why you want to be that way for her. This might be the best file of Shelle's I have ever listened to, making it one of the best hypnosis files ever.
Sunday, 28 January 2018
This file is torture, especially if you're already in chastity for Domina Shelle. After only a couple days of listening, I would like more than anything to email Shelle and beg for release, but I am doing her lockdown this year, so I still have a couple weeks to stay locked before I can even consider release. This file leaves me hornier and more desperate than any edging or denial I've ever done, but I can't stop listening because it's the most stimulation I'm allowed to even have right now. Don't get it unless you're prepared to beg and beg for release and obey whatever Domina expects in return.
More reviews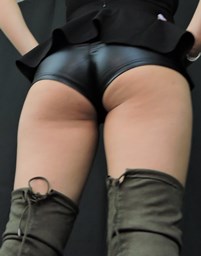 Get Updated