Brainwashed III--Program 4
Program 4 of My Phase III Brainwashing...
Description
Length: 31 minutes
Brainwashed Phase III...Program 4
Welcome, My love slave.  It is time for some routine maintenance of that highly suggestible mind that has been so expertly conditioned by Your adorable Domina.  As My undercover 'sleeper' agent you are perfectly submissive and obedient to Me, conditioned and programmed to desire Me above all others.  But to keep your serving My needs flawlessly and to ensure you are devoted to My happiness, I will put you through another intense session of brainwashing to test your emotional and physical responses to My vibrant and vivacious voice. (giggles)
Yes, My baby, that means you need to prepare yourself to endure the PLEASURE of surrendering to Me again, so HARD to resist and so easy to OBEY, lost in your overwhelming desire for Me, AROUSED and HORNY as your free will melts away.  That is the unmistakable power I have over you, dominating you so completely that I become your everything, an irrepressible reminder that deep down inside you are ALWAYS and forever Mine!
So allow Me to hypnotically brainwash you again, reinforcing that unmistakable belief that you are not simply a person but are My sleeper agent.  This is what you are and who you are destined to be, My obedient slave, conditioned and owned to serve only Me, with an insatiable craving for more.  I'm so good to you and you also know you can TRUST Me...
If you have not trained with Programs 1-2-3, you will find in My Brainwash category - page 3.
Product Download
Brainwashed-III-Program-4-(c)ShelleRivers.mp3
Reviews
Wednesday, 08 August 2018
i am Domina Shelle's undercover agent and i've listened extensively to programs 1 to 3 over the past 12 months. Having access to this fourth program sated a long held desire to strengthen the distinction between my normal life and my secret job to serve and obey Domina Shelle ad Her sleeper agent. A number of us that follow erotic hypnosis lead this double life and Domina uses this reality to further integrate Her authority and control over us by reframing this duality so that we associate our hypno-erotic fetish with Her. i always marvel at Domina's creativity and imagination to insert Herself more firmly into our existence and be under no illusion it is both powerful and extremely effective. Domina Shelle's brainwashing series are a staple so it goes without saying that this session is a must for all devotees of Domina Shelle.
Wednesday, 01 August 2018
Repetition is the Law of Hypnosis: And the release of program 4 in this phase is reason enough to go through all the brainwashing files again, reinstalling and strengthening all the associations and affirmations that are the so fundamental for my mindset as Domina's obedient hypno-slave. The brainwashing helps me to resolve the conflict between day-today life and deep service to Domina. It helps to stay close to Domina and to feel happy whatever the circumstances are. This file brings everything to the point that is important to serve Domina Shelle. - a must have and must repeat.
Wednesday, 18 July 2018
This is a culmination of everything Domina has been training me with all of her Brainwashing Phase sessions leading up to this point. It is perfection, it is intense and so enjoyable, you owe it to yourself to listen. And with it's low cost, you really have no excuses whatsoever.
More reviews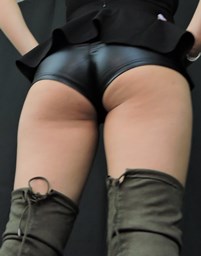 Get Updated