Brainwashed - Program 1
"To Be Brainwashed"
Description
Level: Progressive-Strong
Length: 17 minutes
Category: Brainwash
Program 1 - To Be Brainwashed
This is progressive brainwashing---not for beginners---Best when listened to after your favorite induction
Are you ready to enter "The Program" ?
...To start a new level of sexy and intensely pleasurable training with Me?  You do want to be perfect for Me, don't you... say "Yes Princess"... That's right, a new series of short bursts, concentrated doses of My sweet brainwashing... and once "The Program" is completed, and this will be done over time..Step by step, one by one.. to be Brainwashed is irreversible to most listeners.  The effects are LONG lasting and most AROUSING as I take more and more hold of your brain and of course all other body parts and functions. (WICKED LAUGHS)  Again, these are quick and SHORT sessions for your daily PLEASURES.  But your Domina must warn you, BE CAREFUL WHAT YOU ASK FOR....***GIGGLES*** I might just give it to you.  Finding time to be with Me just became so much easier for you.
Product Download
Brainwashed-Program-1-To-Be-Brainwashed-f9lsy6tp.mp3
Brainwashed-Program-1-To-Be-Brainwashed-f9lsy6tp.mp3
Reviews
Saturday, 01 July 2017
Only the first one and I can't seem to get the word our of my mind. This will be a very important part of my training I am sure of it
Tuesday, 21 March 2017
Just Amazing! This file took me deep and extremely blank. I listened to it for 6 consecutive rounds and it REALLY took a firm hold after the 3rd or 4th listen. I would have loved to have gone longer than 6 rounds but my body was trembling so bad with excitement that it became too difficult to continue. The next day effects were easily felt.

I have to say that it's tough knowing you need to move to the next file when you found one that gives you so much enjoyment. Whether for the series or just using it alone, I would definitely recommend it.

Monday, 22 August 2016
This was a great start you may will not know why, but you will want to keep on listening, maybe even repeat it for a while before you go on to the next one in the Series, it surely will not hurt you to listen to this File a few more times before you go on, it just will make you crave to keep going more and more, this might be the first one in the Series, but even if it´s just the first one you quickly will find out how easily she can control you and more important how good it feels to let it happen...
More reviews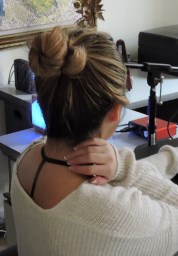 Get Updated