Cat Woman - The Addiction
I can be a WICKED lil pussycat when I want to be...
Description
Category: Enslavement-Erotic Fantasy
Level: Playful-EROTIC
Length: 50 minutes
Sample: LINK
I can be a WICKED lil pussycat when I want to be.*** Giggles***  Come RELAX in My clutches, I want to toy with your little mind.  My pet, you already know that cats LOVE to play with their prey.  I'll be gentle, well, that I can NOT promise...Meow.....(Wicked Princess Laughs)  you see, sometimes I'm good.  Oh, I'm very good.  But sometimes I'm bad.  But only as bad as I wanna be.  Freedom is power.  I have the POWER and so My journey begins.
This may be the sexiest most EROTIC file of all times.  I will take you into a beautiful trance...DEEPLY Hypnotize you, maybe even paralyze you with MY drug- a little scratch won't hurt you.  Don't worry it will be fun...I will protect you!  Meowwwwwwwwww
If you are in Chastity----I feel sooo badly for you, you are My prey!  Wicked Princess "Cat Woman" -- LAUGHS Her most WICKED laugh!
Product Download
Cat-Woman-The-Addiction-fov7je3c.mp3
Cat-Woman-The-Addiction-fov7je3c.mp3
Reviews
Wednesday, 26 October 2016
Playful, silly, surpringsing and maybe a bit weird at first, i mean i did not excepted my Princess to meow or purr, but oh my did this got me, i was smiling instantly almost laughing at how cute it was to have her meow and well as surprising as this was, it was even more surprising that i already was falling atr this Point, she didn´even started to do anything, just a meow, a purr and some words about what might happend and i already was lost lol

From this Point onward she somewhat switches from a silly kitty cat, to a very Dominant Catwoman, totally at her mercy, so weak, helplessly getting addicted to well several things, i am not gonna spoil this Part and before i knew it i once again was completly and truly owned by her...

This File was maybe a bit silly at first, then got way more serious and all in all was sooo much fun to listen to, i really want to ask for Catwoman 2 xD
Sunday, 15 November 2015
This was a fun and playful fantasy. Imaging Domina Shelle in a latex catsuit probably made me drool little, lol. She's irresistible and I liked hearing Her purr.
Thursday, 05 December 2013
Domina Shelle has just done a masterpiece in this file. The roleplay is suberb, kinky and extremely erotic. Your right hand will surely gain a new sensation. This is a must have for latex and body worship lovers.
More reviews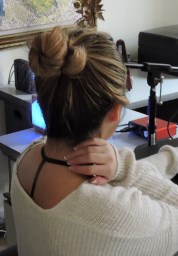 Get Updated