Chastity Lesson 4--Service and Submission
Chastity Lesson 4 - Service and Submission.
Description
It's time for your 4th Lesson in Chastity.  This lesson is the MOST powerful lesson thus far.
If your body craves the sound of climax then you have My permission to continue on.
I love knowing that you are suffering for ME.  Yes, swollen, dripping and LOVING the horny feeling of My Chastity.
You know that deep down inside this is one of the best ways you can show Me just how much you've given yourself to my power.
Your submission in SERVICE and in Chastity will overwhelm you.
You wanted to give… to feel yourself compromised and controlled… and now you are.  I always give you what you want:)
just that simple.
You are under my power… controlled… entangled in Me, all because this is what you want.
Are you now wondering, what you have gotten yourself in to...and if you will ever c*m again. ***GIGGLES***
Are you sure that you really want to C*M anymore...I love you hard...you are so sweet and obedient when you are HORNY.
Product Download
Chastity-Assignments.rtf
Chastity-Assignments.rtf
Chastity-Lesson-4-Service-Submission-0leqb3fg.mp3
Chastity-Lesson-4-Service-Submission-0leqb3fg.mp3
Reviews
Saturday, 05 May 2018
After being c is what you want. This is the key to unlocking (or locking depending on your perspective) hypnotic chastity. You will not be disappointed if you are willing to follow Domina's instructions and make the necessary sacrifices.
Wednesday, 22 July 2015
Do you know what you want? I mean, do you REALLY know what you want? With this lesson, Domina Shelle taught me that there really is no greater pleasure than to obey and remain in chastity for Her. This is BLISS that you could only dream of before!
Sunday, 11 January 2015
Words just... i can't even... You may not have ever thought about chastity before. It doesn't matter. You need to take this journey with Domina Shelle. Being hypynotized by Domina is always amazing, but these files are something else entirely. The first was amazing, and every one since than has been several time better. This file is nearly 25 minutes of mind numbing pleasure turning you inside out. After listening to this file, I'm convinced that Domina set out to break my mind with pleasure - and she outdid herself - chastity like this feels FAR better than any orgasm ever did.
More reviews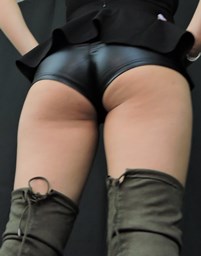 Get Updated