Chastity Lesson 5--What you WANT
Chastity Lesson 5 - What you WANT
Description
This TRAINING will leave your body and mind a total sexual wreck.
Can you imagine… your c**k throbbing… so stiff… so hard… building up and up to that perfect climax… like a hypnotic wet dream… naughty thoughts of submission sinking into your skin as you grow harder and harder… so full, so thick, so ready to burst… wanting to c*m… wanting what I want… wanting to explode… unable to move… feeling the need consuming you… pulsing through you… so hungry for release… so hungry and horny… feeling it twitch… imagining it start to dribble just a little… feeling that little wet drop of pre-c*m at the head… you want it My hypnotized paralyzed slave… Your body wants to c*m… you body is too weak to hold back… your body is betraying you… you want this…Don't you!
Before you listen, I want you to lay back and just think about how good you feel.  I mean with your b**ls bulging against your pants, dripping even NOW.   So swollen that you feel the engorged flesh, feel the pulsating.
Isn't that so sexy, so hard and HORNY and it's all for ME.  Yes, for your devotion and sacrifice to your Domina, but just look at what I have done for you, to you. ***GIGGLES***
Yes, all as a part of perfecting you...this is what you want, what we want.
When you listen to this file---experience My words fully.
Product Download
Chastity-Lesson-5-What-you-WANT-sch5j9or.mp3
Chastity-Lesson-5-What-you-WANT-sch5j9or.mp3
Reviews
Saturday, 05 May 2018
Its time to test your training and choose a path to follow. This is not a do ro die situation but more of a evaluation of whether you are ready to take the next step into hypnotic shastity and mental enslavement to Domina Shelle. i suspect most people (including myself the first time) will choose the easier path but if your are dedicated and see the merits behind this training series, you will eventually take the alternate path which will no l in ways you previously only imagined. The one thing you will definitely feel is a stronger emotional connection to Domina Shelle and with this you have a golden opportunity to take your submission to the next level, contacting Domina Shelle to see how she can further train you to reach even grater depths of submission and servitude possibly even become one of Her Contracted slaves. All this becomes possible once you truly give in o Domina's control and this chastity training is ideal for this.
Tuesday, 04 August 2015
Be careful what you wish for, as this is the real thing. On the first few days, I was horny and loving the tease and denial... but a few days later I was avoiding this. Not knowing or caring why. On day 8, I had a wet dream. Something I haven't had in years. I'm still not sure if that is failure and I have to start over, but I'm sold. I will do whatever Mistress Shelle instructs me.
Monday, 27 July 2015
You will be given a choice. No matter what you'll choose, you'll enjoy it. Trust me! Trust in Domina Shelle! This was an amazing series.
More reviews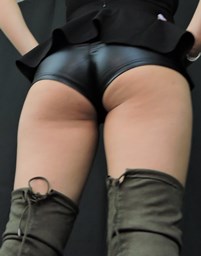 Get Updated