Dangerous Pleasures
Indulge in My Dangerous Pleasures ...
Description
Session Length: 38 minutes 
My pet, this session is a demonstration of how I can use a simple suggestion, and a direct classical induction, to fundamentally set you on a path of deeper submission and pure obedience.  I have this power because through my unique brand erotic conditioning (giggles), progressive indoctrination and neuro-linguistic programming (NLP), I can control and influence all aspects of your decision making and desires.
My SEXY voice and ALLURING words already hold you captive on a regular basis - but, I want MORE!  I want to PERFECT your submission, to make you the best slave you can be for your Domina.  To accomplish this requires much more.
So prepare yourself to stroke and drop...drop into a deep penetrating trance and I'll do the rest.  In the hands of a skilled Dominant, stroking while HYPNOTIZED is a very powerful tool to coerce the subject (you) to almost anywhere the Dominant wants to take you.  I'm about to take you on a wild ride into a potentially dangerous area...you're not afraid of a little danger are you...Giggles!!!
Listening to this session is your compulsion (BUT IT IS NOT FOR EVERYONE), unless you are not ready for the ultimate level of sexual submission...just be careful it may be felt as torment to some listeners.  For, once the suggestions within this file take hold it will change your life.  If you are serious about achieving true submission, indulge in My Dangerous Pleasures and forget all about the warning.  With the understanding, that its effects can be lasting and affect you for an undetermined length of time.
The power I possess should not be underestimated and it is DEMONSTRATED in this PROGRAMMING session.
Product Download
Dangerous-Pleasures-(c)ShelleRivers.mp3
Dangerous-Pleasures-(c)ShelleRivers.mp3
Reviews
Sunday, 03 September 2017
i for one was surprised by the intensity of this Session and how powerful the Trigger was. i immediately assimilated the Command and my repeated tries to test it shows how deep Domina's hold over me has now reached.

The Induction on this File is extremely efficient. Bringing us down gradually while gaining concessions from us all along the way.

This Session is for the more experienced and, as She states "NOT FOR EVERYONE". It is aimed primarily at those of us who want to experience submission in it's purest form, by jumping in, guided only with our Faith in Domina.
Tuesday, 29 August 2017
i love it. Long slow fall into deep trance. So powerful and arousing commands.
Domina Shelle controls me. She makes me so weak for Her.
Sunday, 27 August 2017
This is about stroking and going down - it is about pleasure and obedience. I used to be pround to dominate my body and bold back - i felt strong to reach the edge but not c*m. Domina takes this power away - it is not my decision and pride anymore. In the moment of decision i am not involved anymore - only Her in my mind. My favorite combination is to listn to Focal Point right after this one for special effects! - Bring enough time!
More reviews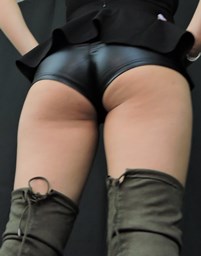 Get Updated