Edge Of ERUPTION
Experience the amazing feeling of being HARD, HORNY and completely submissive for your Domina.
Description
Length: 35 minutes
Category: Chastity-Brainwashing
This file is your COMPULSION.
Cum, My pet, and experience what it will be like to serve and please your Princess in Her Queendom.  A world in which your hypnotic Princess rules and you kneel in complete submission.  A journey into enslavement takes you deeper and deeper into a world of complete subservience.  Let My words and hypnotic voice mesmerize your open mind.
My sweet slave, listen as your Princess leads you into a world which you will never return nor will you ever wish to.  Let Me bring you hypnotic pleasure and torment that you have imagined and have never achieved.  Through this erotic journey, I will ravish your mind and make you My helpless toy and leave you craving the touch of My sensual voice.
My brainwashed slave, experience a life of craving, pleasure and sweet torment.  Cum, My sweet and submissive pet, visit your Princess Shelle in Her Queendom.... giggles  Accept your place in this world at My feet, with your throbbing c*ck, wet and hard.  Accept your reality!  Locked up, DENIED...and MINE!
Now, My sweet slave, find a private place, get naked, lay down, put on your head phones and submit to your future as My horny slave.
FREE ---- SUBLIMINAL TRAINING---listen daily 7 days at least 3 times daily....and sleep with if possible.  Be aware....May make changes inside your brain.
Product Download
Edge-Of-Eruption-0eo6qgp5-(c)ShelleRivers.mp3
Edge-Of-Eruption-0eo6qgp5-(c)ShelleRivers.mp3
Subliminal-Enticement-X-lb9efw-(c)ShelleRivers.mp3
Subliminal-Enticement-X-lb9efw-(c)ShelleRivers.mp3
Reviews
Friday, 10 February 2017
This session is like a dream. A most wonderful dream. If you enjoy stories or chastity, or better yet both, then this session is a must have. This session has a sweeter feel to it than I would have guessed. Princess Shelle is such an amazing storyteller, i really lost myself in the world She crafted in this session.
Monday, 16 May 2016
Woah... This file is life-changing. Words don't do it justice. Listening to this file took my need for Princess Shelle from a light jog to a full on sprint. Princess Shelle will own you. If you've gotten this far, don't procrastinate buying this file! I have never had a more intensely hypnotic and arousing experience and now each and every moment of my life is filled with a constantly growing lust for my Domina and an exponentially increasing desire to serve and obey Her.
Monday, 02 May 2016
Wow, that was NOT what I was expecting! The induction is gorgeous! I love story-driven sessions, and fairytales are such a versatile setting. I don't want to spoil the surprise, but some of the imagery is simply inspired! Next time Domina asks me to listen to my favourite chastity file, I think I know what I'll be listening to..
More reviews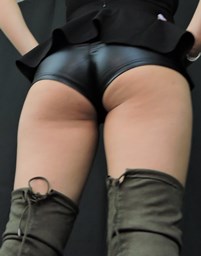 Get Updated