Erotic Control - Rest
I bring together your mental bliss with physical pleasure...
Description
Category: Mind Control-Erotic
Level: POWERFUL
Length: 45 minutes
This file is a COMPULSION.
your training continues to bring your mind and body more and more under My control.  With a long, restful and relaxed induction of Erotic Hypnosis, you slip so deep into complete acceptance.  I'll reach your deepest submissive desires for obedience to My most seductive control.  So obedient and passive.  The more you obey, the more you become mine.
Through repetition you become perfect for Me.  I am truly your obsession.  you dream and think of Me.  All your pleasure comes through Me.  I own your c*ck and I own your mind.  you crave and seek My orgasmic mind control.  Experience the intensity when it all cums together... ~~~GIGGLES~~~
Product Download
Erotic-Control-Rest-iyf6xmd1-(c)ShelleRivers.mp3
Erotic-Control-Rest-iyf6xmd1-(c)ShelleRivers.mp3
Reviews
Monday, 02 October 2017
It is simple logic. It is obvious – easy to repeat – no harm can come from such simple obvious facts. No need to resist the obvious. And I start to think about it – is there a beginning – is there an end? The more i think, the more i think. And the more i think the more i think the more i.... It is a spiral! And as my thoughts spin around the simple facts in a long wonderful induction I do not realize how I am pulled in, deep down where Her voice starts to program me. Am i resting? It feels so good – floating in lust and Her voice. When i came up from trance i could not remember when the induction ended – when the trance ended – when the rest ended. I feel so good – just want to dive in again!
Tuesday, 27 December 2016
This wonderful session further teaches the listener how creative and powerful Domina is. You learn not only that obedience is pleasure but that through ever increasing submission that you are obsessed with Domina. If you crave mind control and an ever increasing acceptance of your role as a submissive this is the file for you!
Friday, 16 December 2016
i'm such a sucker for long inductions like you'll find in this file. Domina Shelle's conversation with you as you drop into trance is priceless here. She wants you to use Her words, and you will. Again and again. Soon realizing you only and always want to use Her words instead of yours. Just another willing step into Her world where you will not want to leave.
More reviews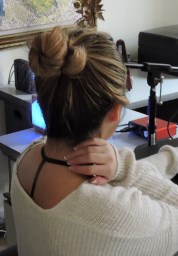 Get Updated