Lady H - Drain
"Drain" by Lady Helena--Shelle's slave girl
Description
Category: Lady Helena
Length: 39 minutes
Drain by Lady Helena--Shelle's slave girl
My servant, have you ever had a bottle of lotion or a condiment that was Almost empty, So you Beat it and squeeze it until you get the very last Drop?  I know you have... you can get so frustrated banging away trying to get that last Drop.... Now My subject, Imagine you are the bottle, My bottle, and I desperately Want what's inside!  Imagine your Lady Helena taking Every Drop, Draining you, Making you Ooze For Me until I am satisfied!  I know you Crave My satisfaction and you Know that I will Only Bring you Pleasure when I allow you to squirt For Me Over and Over again!  Listen and Obey little slave boy...I'll have your brain and that c*ck DRAINED before you know what has happened.
Product Download
Drain-mx7u2avp-(c)ShelleRiversHypnotica.mp3
Drain-mx7u2avp-(c)ShelleRiversHypnotica.mp3
Reviews
Wednesday, 21 December 2016
Not an easy file to go through, so it's better to to make sure you have few hours to complete this. But in the end you will be drained and empty. i know i was.
Monday, 19 September 2016
i don´t remember which File it was, but on one File our Princess did something similiar to this and i do have to say following Princess File was way easier, probably because she just did it twice and the second time was at the end of the File...

With Lady Helenas File i did had some trouble, this where way too many Orgasm for me, seriously i could not keep up with it, this File says it´s about 40 Minutes long, but with all this needed breaks, well it took me something around 2 hours and i wil not lie the pleasure changed pretty quickly into pure torture, i am not saying that this File was bad, i did enjoyed it, it just was really hard to do and it also surprised me how she did it, as i heared about this File first i was sure that she would use ruined Orgasm to drain, afterall you can have several ruined Orgasm without the need of a break and it also would had been really frustrating to be drained like this, but i also can see why she choice not to do it this way, the result would had been the same, but with ruined orgasm it probably would had been easier...

Anyway if you like multiple forced Orgasm or want to give it a go, then this File is for you, if that´s not what you are looking for then you just should skip this one...

JJFeeder
Monday, 19 September 2016
Lady Helena drained me completely, and then she drained me some more. This had an impact on me that lasted long after the end of this session.
More reviews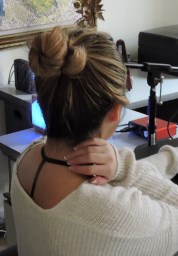 Get Updated