Lust in the Darkness
Find yourself lost in My web within a web, HORNY and confused, helpless and controlled...
Description
Level: Medium-Strong
Length: 43 minutes
Category: Mind Control-Erotic
Sample: LINK
What a WICKED web I weave---Sleep DEEP.
Come-- find yourself lost in My web within a web, HORNY and confused, helpless and controlled as your EXTREMELY erotic DOMINA enters your dreams, toys with your naked mind and your body, leaving you begging for release.
Product Download
Lust-In-The-Darkness-dlvjeb2y.mp3
Lust-In-The-Darkness-dlvjeb2y.mp3
Reviews
Wednesday, 22 February 2017
It is said that nightmares about being caught in a spider web are very common for young boys in puberty. They reflect the struggle of the adolescent to get independent form his mother in case of a difficult – too protective – mother son relationship. I just loved the idea to revitalize such dreams again in case of loosing independence to my Domina. It was scary and arousing at a time – and wrapped in silk – I did not know if I am the prey struggling in unbreakable bonds or the the butterfly in its cocoon waiting to rise as something new and beautiful – it felt like both. Please Domina! Devour me and make me new – You decide.
Thursday, 05 February 2015
After i listened to this intensive teasing from my Domina my dreams of Her became more. Although i the memory of the dreams fade quickly away when i wake up at night i'm only thinking of Her, being aroused for Her. i am trapped in Her web for some time now but after this one there is no chance of ever escaping again. Not that i would want it. The trance itself was relaxing as i fall deep again for my Mistress. Then the tease began which made me so hard and horny for Her. Wanting to be more submissive, more enslaved to Her. my Domina i am Your slave trapped in wicked Your web.
Tuesday, 27 January 2015
Oh, wow. So sexual. Being helplessly stuck in her web and enduring Domina's teasing. There's nothing you can do to stop her. But you don't want to stop her. You just want more and more.
More reviews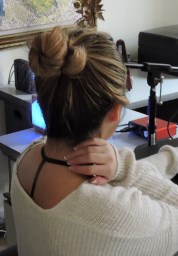 Get Updated