Mind Numbing SLEEP
Perfect HYPNOTIC...sleepy file...Conditioning...BRAINWASHING...Triggers IMPLANTED deeper...all as you just sleep.
Description
Level: Powerful
Length: 38 minutes
Category: Brainwash-Mind Control-CONDITIONING
Cum listen to this powerful file, find a level of relaxation and pleasure beyond what you could ever have imagined.  Enjoy enslaving nights of submission, brainwashing and subliminal bliss with your Domina.  Sleep with Me, feel my soft sensual hands caressing your temples…feel your cheek against My breasts, breathing in My scent.  Let Me take care of you, as I continue to weaken your resistance, enslaving you even deeper.  Having you fall deeper and deeper under My control…causing your erotic desires and cravings to grow.
A deeply penetrating, MIND CONDITIONING hypnotic file.  your mind will open completely to My suggestions as MY triggers SINK deeper…a perfect BRAINWASHING.
Subliminal Messages pushing My TRIGGERS deeper into your subconscious mind...Conditioning your sleep.
Product Download
Mind-Numbing-Sleep-1kgy5pae-(c)ShelleRivers.mp3
Mind-Numbing-Sleep-1kgy5pae-(c)ShelleRivers.mp3
Reviews
Saturday, 10 March 2018
It is time to sleep and the best way to do it is to relax in Domina's hands: A hot bath, massage oil than cuddling up, my head resting on Her breast, my mind is floating in Her voice. I know there is a price to pay and she will take it. But I do not care and drift down. The price is access to my subconscious mind and the right to play with it. But I do not care, I trust Domina. I do not know what happened there deep in my subconscious and drift to sleep. In the morning I just feel a strong bond and devotion: Thank You Pricess Shelle for being my Domina!
Monday, 28 November 2016
I love this, yet, I have no idea what happens here as I always sleep so deeply listening to Domina in this file. She could be doing anything to me, but I'm happy for her to do so. I'll be listening again tonight and every night.

Tuesday, 21 June 2016
I love to fall asleep while listening to Princess Shelle's voice! This file intensifies my submission to her each time I listen and I also sleep much better and wake up rested.
More reviews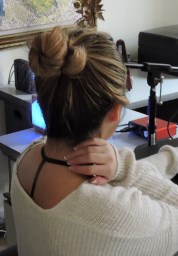 Get Updated