Mindlessly Mesmerized
My Crystal Ball steals your mind...ONLY deeper this time.
Description
Length: 38 minutes
Category: Brainwashing-Mind Control
A Collector of MINDS....Mindlessly Mesmerized hypnotic induction may give you a sense of Déjà Vu as you fall DEEP under My spell.  My sweet southern voice combined with strong subliminal layering will soothe your mind into complete compliance as I install My powerful suggestions in your head (Giggles).
I am the Collector Of Minds....don't you worry, I want only what is Mine...your MIND...Give it to Me...giggles....It's ok if you try to resist, as you Relax and lay back.  Naked, mesmerized and helpless.  Imagine your Domina's sexy body dancing in the swirling hypnotic mist of enslavement.  As you fall deeper and deeper under My control.  Let your mind becum lost in My world of hypnotic enslavement, be My MINDLESS pet.
TWO versions INCLUDED!
Product Download
Mindlessly-Mesmerized-(c)ShelleRivers.mp3
Mindlessly-Mesmerized-(c)ShelleRivers.mp3
Mindlessly-Mesmerized-Ver2-(c)ShelleRivers.mp3
Mindlessly-Mesmerized-Ver2-(c)ShelleRivers.mp3
Reviews
Friday, 01 December 2017
Haven't i met that women before? Haven't i drooled over the alluring movements of her dance already? Didn't she conquered my mind earlier? It is so familiar here and strange at the same time. Domina creates an atmosphere of Arabian Nights, a Carnival. The background sound, desert winds, a busy Bazaar and the music make it so realistic. This time i have really seen the seductive movements of her hips and my mind seemed to dance with her. i am feeling dizzy and consumed by the impressions. Another great story hypnosis from Domina Shelle!
Thursday, 30 November 2017
Domina has such a deep and creative imagination. I've always believed that Domina has the ability to be a writer. This file creates the most vivid picture of the story Domina tells. It's a sexy, mysterious file, that only Domina can tell, as She takes you down and puts you in a world that She creates. One of submission and sexy domination.
Tuesday, 28 November 2017
i loved how deeply Domina Shelle took me in this. And how effortessly it seemed to happen. Very nice relaxing and captivating session.
More reviews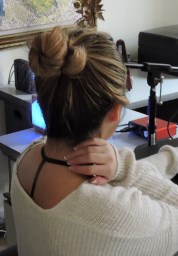 Get Updated