Mistress Of Minds
Imprisoned within My world...be careful what you wish for....
Description
Level: Strong
Length: 45 minutes
Category: Erotic Fantasy-Brainwash-Mind Control
I am the Mistress of Minds.
This file will reinforce the power that I have over your mind.
It will entrap you and make your mind My domain.
You want your mind to belong to Me.
There is an overwhelming need that you have for Me to completely control your mind.
Gently drawn in until it is too late...there is no escape....no way out....your mind is Mine.
You will yearn to please and obey Me.
Completely subjected to My will and My commands.
I am the Mistress of your Mind.
Take off your clothes...get cozy and warm...and experience the passion of ME.
My use of Binaural Beats, 3D and enticing music will leave you desperately deep in TRANCE.
Product Download
Mistress-Of-Minds-vfor5plx.mp3
Mistress-Of-Minds-vfor5plx.mp3
Reviews
Tuesday, 31 October 2017
Sweet sexy and scary. Mistress of minds has it all. Don't be fooled by the sweetness of Mistress Shelle. She will leave you drained and wanting more by the end of this one.
Sunday, 29 October 2017
Is it now a fantasy tale during hypnosis or is it a deep trance within a story? I cannot tell but my realities mix up during this experience. One thing I know: during cold autumn and winter days this is the right file to bring a small magic summer holiday feeling. Beaches, islands, huge beds and masons and a Jeanny to fulfill all my wishes: best holiday ever! But Domina would not slip into my mind without taking the chance to brainwash me! This one goes very deep – with the great island feeling my mind is so open to whatever she says!
Friday, 27 October 2017
Words can't describe this session!
It's an incredible erotic fantasy as well as a powerful reinforcement of Domina Shelle's control over my mind and body.
The story captured me, took me deep and when it was time to wake up, i didn't want to. I wanted to stay there with my Mistress forever and it took me a while to return to reality.
I know, that i will return and meet the Mistress of my Mind again!!!
More reviews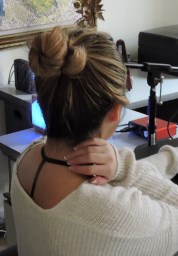 Get Updated