Power of Suggestion
Imagine you, laying there, vulnerable and helpless. My sexy POWERFUL words slipping into your suggestible mind...
Description
Length: 37 minutes
Category: Erotic Fantasy-Mind Control
Imagine you, unable to move, laying there vulnerable and helpless.  My sexy POWERFUL words slipping into your suggestible mind.
Her hands massaging your temples...touching your face, neck and shoulders.  Her touch Powerful yet DELICATE.
More hands, warm and soft have traveled down your body and are wrapped around the base of your c*ck.  Lips whispering SUGGESTIONS into your HYPNOTIZED mind...nipples touched...pushing your arousal to what may seem unbearable.  Teasing you closer and closer to the truth.  Wetness covers your co*k from sultry licks, kisses and sucking.
Oh what has She done to you.  As you slide deeper into nothingness as you drift away in hypnotized sleep...the Phantom PLEASURES are real.
Now a different feeling, something strong, definite and CONTROLLING...yes, She feels like control, She touches you and you want to obey.  She runs her fingers across your skin, and you feel weak for Me, not just agreeable, not just suggestible but truly weak, and the weakness makes this more arousing doesn't it, My pet.
Oh My, did that arouse you...Mental perceptions are so powerful, Everything in our lives began with a suggestion.  Those suggestions affect how we think, how we respond, and how we act.  Feel My suggestions take hold of you and morph into your reality.
A very erotic Hypno-TEASE...your Domina is a c*ck tease. Giggles!
Includes powerful subliminal messages and post-hypnotic suggestions.
This session has two downloads.  I give you a little CHOICE!
Product Download
Power-of-Suggestion-Chastity-(c)ShelleRivers.mp3
Power-of-Suggestion-Chastity-(c)ShelleRivers.mp3
Power-of-Suggestion-Release-(c)ShelleRivers.mp3
Power-of-Suggestion-Release-(c)ShelleRivers.mp3
Reviews
Wednesday, 31 January 2018
"Let me tell you whats about the happen". A hypno-session that starts like this usually holds lot of surprises. I listened to the chaste version of the file but that does not really matter. What really matters is to realize: "Submitting fully to Domina's power of suggestions holds a lot of reward and pleasure." I let the suggestion of a flame enter my mind and allow this picture to take over. More suggestions are coming and I let go – so deep that I do not know exactly when and how the more erotic sensations started. I feel pampered like an emperor. In fractured moments of awareness I realize that I am not alone with Domina: many hands and mouths are eager to serve my pleasure. Her suggestions ARE pleasure!
Saturday, 23 December 2017
This session is further proof of just how powerful Domina Shelle is. To new listeners the effects of her files may seen mild at first but do not be deterred. The intensity of Domina Shelle's sessions comes through listening to a number of different sessions and through repeated listens. If you do this and stick with it, progressively and very effectively, she will breakdown your resistance. Once this happens sessions that previously seemed benign have a wholly different impact on your psyche and that's when you know your hooked on Domina, obsessed and addicted to that wonderful feeling of complete submission. This session pushes all of these buttons and for those that are fully indoctrinated into the world of Domina Shelle it will further underscore why we adore this woman and why She deserves our admiration, obedience and servitude. This is a session every follower of Domina should own.
Saturday, 23 December 2017
Domina Shelle's control is the greatest feature of this session. The arousal and the pleasure of Domina Shelle's Voice is wonderful during this recording, and the way that She uses the power of suggestion to allow the subject to experience it is fantastic. Experienced subjects will gain the greatest benefit from this session, however it is definitely accessible to all levels.
More reviews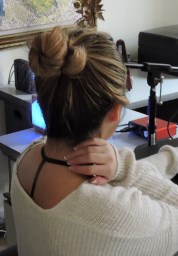 Get Updated