Punishment - At My Mercy
Punishment or Pleasure.
Description
Level: Powerful
Length: 36 minutes
Category: Brainwash-Mind Control
Sample: LINK
More mind play.  I just love playing with your mind.  Feel the haunting of your evil Princess. ***Laughing***
My beautiful slave girls dressed in shiny latex will lead you by the leash to My BRAINWASHING room.  Strapping you to the chair, with NO escape.  My voice surrounds you, Hypnotizing you.  My control over you stronger than you ever imagined it could be.
I will increase the pleasure and effects of My Voice...and teach you what true PUNISHMENT feels like.  The line between Pleasure and pain is well DEFINED.  A very EROTIC and Hypnotically emotional EXPERIENCE!
Princess/Domina at her most WICKED.
The attached spiral is to be used on the 2nd listen, if you like visual aids.
Product Download
Black-and-White-PrincessShelleDeeper.zip
Black-and-White-PrincessShelleDeeper.zip
Punishment-leb5spju-(c)ShelleRivers.mp3
Punishment-leb5spju-(c)ShelleRivers.mp3
Reviews
Wednesday, 08 March 2017
Feeling guilty is poison. Punishment is not necessarily a bad thing as it can cleanse the mind of that poison. In this file i realized how much i need Domina's voice and how bad it feels to be deprived from the pleasure of listening to HER. I was floating in a pleasurable trance when suddenly words of scold and humiliation ooze from my subconscious mind into my consciousness: destabilizing me and than – silence! Brought half out of trance – feeling bad and left alone in a stage of unstable semi-awareness: a true mental punishment!
Wednesday, 04 February 2015
Oh God, that was hot! One of the hottest files I've ever listened. I'm writing this right after I listened this and my hands are still shaking. I'm so hard and horny now, but my cock doens't matter. I don't matter without Domina Shelle's voice and words. I'm Her slave and I don't want to disobey my Domina.
Tuesday, 03 February 2015
A highly arousing file. Domina Shelle shows a glimpse of what punishment a disobedient slave would get from Her. And She even threatens with more. Even without the fear of a possible punishment i would only want to obey Her. She is my Domina who owns me and controls me. i crave to be back in my brainwashing room and become more indoctrinated by my Domina.
More reviews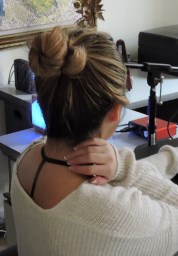 Get Updated