Register to be COLLARED
Register to be My COLLARED slave.
Description
Register NOW to be OFFICIALLY collared as My slave.
For a slave, the collar is the most important symbol of ownership.  A collar is worn to denote submissiveness or slavery to a particular Mistress.  The collar is the outward (or inward) symbol of the commitment between Mistress and slave.  Such a collar may be an actual collar, a piece of neckwear, or may be a bracelet or other piece of jewelry that symbolizes slave status....for some a mental collar.
your REGISTRATION includes your OFFICIAL slave name---Chosen and APPOINTED by your AMAZING Domina Shelle Rivers.  you will also receive full instructions as to what you need to do to PREPARE for your collaring.
(Files -including CEREMONY and OFFICIAL call (text or chat) OFFERED separately) Not included in registration fee.
Product Download
COLLARED-Registration-instructions.rtf
COLLARED-Registration-instructions.rtf
Reviews
Saturday, 14 January 2017
Becoming Domina's slave is a dream c*m true. i didn't know it would be this good. i didn't know that i would enjoy serving HER so much. She's the best!!! Find out for yourself.
Tuesday, 04 August 2015
Everything Domina has done with Her official slave collaring has been a complete and total dream come true to experience with Her. The first life-changing step is here, and looking back it already seems so long ago that She took this next level of ownership of me in such an intimate and profound way. I feel meaningfully changed, filled with a happiness to be constantly reminded of my beautiful powerful Owner, and safe knowing there's no looking back and so much to look forward to.
Monday, 15 June 2015
Well i thought i will wait until this actually happens before i write a review about this and yeah now i definitivly can say, if you want to feel completly owned, if you want to feel way closer to her, then there is no way around this, sooner or later you will want to be collared by her and if this is what you really want you absolutly will love it, as soon as you find yourself collared by her, it will probably overwhelm you first, i for myself needed to take a whole day to really appreciate what just happened, but as soon as you realize that you took a big and meaningful step with her together you will not be able to stop smiling
More reviews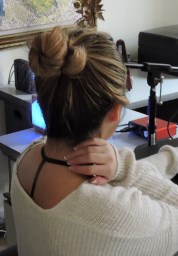 Get Updated