Sexual Manipulation and Sacrifice
you want to be manipulated and abused by your Domina.
Description
Length: 46 minutes
Category: Mind Control-Enslavement
Close your eyes and think "Stimulation", just think about what that means ​to you.  Then think about the word DEPRIVATION....how does that make you feel?  Now think about a "Maniuplation", what do you see?​  Doesn't every man dream of a beautiful young, SEXY and POWERFUL Woman controlling and manipulating him in every way​?  Now unzip your pants for Me and allow your COMPULSION to OBEY take over...Listen to My voice and EXPERIENCE My sexual assault on your mind and c*ck.
A perfect TEASE...and aching that you will crave more and more.
Product Download
Sexual-Manipulation-Sacrifice-(c)ShelleRivers.mp3
Sexual-Manipulation-Sacrifice-(c)ShelleRivers.mp3
Reviews
Sunday, 04 June 2017
In this session Domina Shelle reinforces the respective roles in your D/s relati at her direction. This may be viewed by some listeners as a tease but for those of you accustomed to Domina Shelle's style this will complement the fracti to honour and thank Domina Shelle for what I had just experienced. This is yet another example of Domina Shelle's incredible talents and acknowledgement that progressively, and systematically, she is conditioning and indoctrinating me to be her life-long servant. I for one look forward to becoming her loyal and obedient submissive.
Monday, 27 February 2017
There's no denying the power Domina Shelle has over the submissive mind. And this session will continue to reinforce that control. Yet so strong is the tie to her that I will willingly submit.
Saturday, 11 February 2017
I loved the interplay between forceful and sweet during this session. It was a wonderful way to increase Domina Shelle's control over my mind and body.
More reviews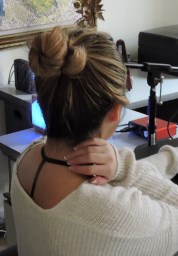 Get Updated