Shelle's School For men 101
The first in a series of classes--TEACHING men their role in the world and in life, especially My life... INDOCTRINATION - A SLAVE'S REALITY
Description
Lesson: The TRUTH - Taught By Professor Shelle
Category: Shelle's School For men
Level: Moderate
Length: 40+ minutes
Sample: LINK
INDOCTRINATION - A SLAVE'S REALITY
Get ready for the SEXIEST, most EROTIC, MOST HYPNOTIC classroom you have ever experienced, even in fantasy...you will LEAVE here a different man...***GIGGLES*** I PROMISE***Be careful, you will fall for ME, THE HOTTEST Professor EVER.  Be MY class pet, get an A+ in submission.
The first in a series of classes----TEACHING men their role in the world and in life, especially My life, and how to achieve peace and happiness as a submissive / slave.  This class is meant for all men...you MUST be trained properly.
This is TRULY different than anything you have ever experienced.
Now, get ready for your SEXY Professor Shelle, lay down on Her soft bed...or just sit here next to MY feet...Be a goodboy, I want you to get an A+....
Product Download
Shelles-Classroom-The-Truth-7kc8tzfe.mp3
Shelles-Classroom-The-Truth-7kc8tzfe.mp3
Reviews
Friday, 13 January 2017
Princesses Shelle ,showing her students a lesson of lovinga strong and loving Princess relaxing you into right mind-bending of history. This in a nice relaxing trance by watching a spiral and sleeping for your lesson on being her's
Tuesday, 14 April 2015
Domina Shelle is great in all She does, here in this file She is a teacher helping any male to learn the truth about the natural weakness of men and their submission towards women. As i am submissive to women as long as i can think with the teaching of Her everything makes sense now. my Domina guides and controls me and i obey Her without thought and without question as this is as it should be. Thank You my beloved Domina i love to be in Your class.
Friday, 02 January 2015
Domina Shelle Herself told me to start this series of files. I've been submissive pretty much all my life. At lest deep in my heart, and always knew women were the smarter and stronger sex. Now Domina removes all doubt that I may have had, or any lies that men around me my have filled my head with. My life has forever changed for the better, and it just keeps getting better and better. I highly highly recommend this file for anyone who is serious about their submission to Domina Shelle.
More reviews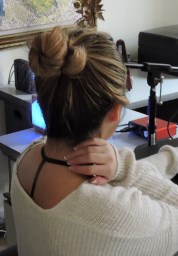 Get Updated