slave Puppy Training 102
Part 2 of My slave Puppy Training...
Description
Length: 19 minutes
Category: Enslavement
Level: Playful and Hypnotic
My mindless obedient puppy what lesson shall you learn next?  Maybe your Domina will have you naked, collared as W/we practice your sitting and staying or maybe I will have My puppy begging at My feet.  Whether you will find you self-begging or something else I assure you, My horny lil puppy slave, that you will enjoy your experience at My feet.
This is a continuation of your puppy and obedience training.  As I transform you back into My human puppy slave.  Accept your place as My obedient pet, accept your place as My well-trained little puppy.  Show your Princess your completed obedience to My instructions and learn the rewards of loyalty and devotion of My puppy dog.
C*m listen to your Domina's Puppy Training 2.  The file is best experienced after accepting your Domina's Puppy Training 1.  So, My horny puppy, accept your place at My feet, naked, collared and ready to serve your Princess/Domina.
Product Download
slave-Puppy-Training-102-(c)ShelleRivers.mp3
slave-Puppy-Training-102-(c)ShelleRivers.mp3
Reviews
Wednesday, 30 August 2017
This one is short but quite amazing. The post hypnotic sugestion - it is so amazing how POWERFUL is HER control.

Each time I listen, I remember waking from trance so winded up, my body trembling with need, hips making those 'puppy movements' even while still laying back on the bed.

There is no question what will happen next...

The feeling of being so overwhelmed, helpless and owned is so much clearer when following post hypnotic orders. Wish there were more sesions with such phs embedded.
Monday, 21 November 2016
A perfect continuation. The physical component of this file will have Domina Shelle's puppies begging at Her feet for more. This feels like a very logical progression and it builds upon the first part of the series very nicely. This puppy has all of his puppy play supplies ready and waiting for Domina's next training day.
Tuesday, 08 November 2016
I never thought about how good it would feel being a puppy to a beautiful Dominate Woman before, but Dominas made it a deep fetish for me now. Mostly because the thought of laying at Dominas beautiful feet overwhelms me. Domina has so much control over me, She can addict me to anything, as long as Shes part of it. I do love this file. Its hot!
More reviews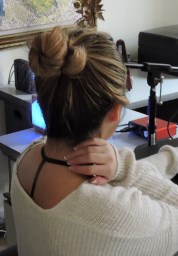 Get Updated