Sleep Manipulation
I implant a permanent TRIGGER...making your resistance impossible!
Description
Length: 44 minutes
Category: Mind Control-Brainwashing
Level: Very Strong
My voice controls you, My sleepy words take your mind so quickly and easily down into deep trance...But I want MORE, you need MORE CONTROL...you beg for more...control is what you need.  W/we want the same thing.
I need you to fall for Me with a SINGLE trigger command.  So, I have created a HYPNO-TRANCE that will give Me all that I want.
I'm becoming MORE powerful...you are falling weaker for Me, and this is what makes you hard and HORNY.  I bet you are hard for Me already, feel that twitch.
It's time for DEEPER submission...a deeper feeling of control by your Domina.  A single TRIGGER embedded so deeply into your subconscious mind that hearing it ONE time....you're under MY control.  So sexy the power!  Give in and listen....This file will be listened to OVER and OVER.  you will NOT be able to resist!
This file is a COMPULSION...
Product Download
Sleep-Manipulation-8vkcsl3u-(c)ShelleRivers.mp3
Sleep-Manipulation-8vkcsl3u-(c)ShelleRivers.mp3
Reviews
Saturday, 27 May 2017
If you want to know what it really means to sleep for princess this file is for you. Listening to this file had a deep impact on me. I was so deep and it felt so good. For sure I will listen to this file over and over. Strong recommendation from my side...
Monday, 27 February 2017
This file is very strong, taking an already familiar trigger and imbuing it with even more power. Another masterpiece from Domina Shelle.
Tuesday, 27 December 2016
If you desire to let Domina take a stronger grip on you min this is the session for you. For those familiar with Domina's sessions a recurring trigger is transformed into something significantly more potent. This makes Domina much more powerful not only in this session but in all other files that use this trigger. So you should view this file as a catalyst to heighten the power and intensity of other sessions noting that as Domina cites this makes her more powerful and you weaker which is wonderful if you desire ever increasing submission to Domina. In my humble opinion this file is essential if you crave a submissive future with Domina Shelle.
More reviews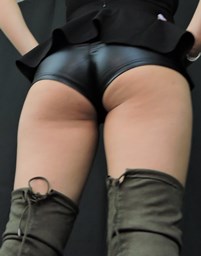 Get Updated