Snake Charmer
Experience the feeling of being lulled by a POWERFUL and IRRESISTIBLE Woman...
Description
Level: Moderate
Length: 46 minutes
Category: Mind Control-Very Erotic
Sample: LINK
This file is simply magical..you are LURED through the desert by the seductive sound of my flute...Unable to resist...Experience the feeling of being lulled by a POWERFUL and IRRESISTIBLE Woman.
A fantasy of men...an erotic and extreme sexual arousal...you will give up all control.  A playtoy or marionette for my pleasure and amusement.***GIGGLES***
Lay back and be taken into another world, MY WORLD.....
Product Download
Snake-Charmer-t9duy7en.mp3
Snake-Charmer-t9duy7en.mp3
Reviews
Sunday, 01 March 2015
Did you ever enjoy being told a bedtime story or maybe campfire stories? I know I did. I loved being able to lay back, close my eyes, and just listen as my mind drifted off to some far away place of magic and adventure. That is exactly what Princess Shelle does in this file. Of course, Her story is probably a little bit naughtier than the ones you may have heard before. On the other hand, so many of the fey out of legends had a tendency to lure and seduce the mortals they came across. Doesn't that sound nice?rnrnHere you stumble across a beautiful woman as she dances in the fire light. That might be a beautiful image all on its own, but this woman has a partner, a beautiful yet venomous serpent! Perhaps there is a metaphor there you should pay attention to? As you watch and listen, it won't be long before that snake isn't the only thing to fall under Domina's spell and you'll be willing to do anything for Her. That is, if She left you the choice!
Sunday, 30 March 2014
This file is quite an experience. First, I just really like the way it sounds and it helps so much in making a very vivid visual of the exotic locale that She uses. It feels like an intense dream where She is guiding you along a captivating and tempting journey that will stick in your mind forever. I'm typically not a huge fan of the more story-based hypno files but this one really works for me. I don't think it's the most erotic thing ever, but for everything else it is it really doesn't need to be. It's still sexy of course – and Her control always is – but also something different, striking, and cool. Try it.
Tuesday, 22 October 2013
Well, this file is very intense and with a sweet wicked twist at the end of it. The description says Level Moderate, but i think it is a very powerful file. Your mind and your c--k will twitch for the entire duration of this session. Princess will take care of you and put you in a safe place to keep you under her silken web of control. Just trust Her.
More reviews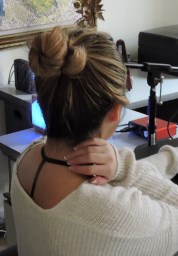 Get Updated