Subliminized
I skillfully send you into a forgetful submissive sleep, completely blank and empty, imbued with the power of My voice...
Description
Length: 27+ minutes
Category: Brainwashing-Mind Control--Erotic Hypnosis
Subliminized
My loyal, obedient and most SUGGESTIBLE subject, you know I have only your best interests at heart (giggles), this is the perfect opportunity for Me to do some mental realignment in your subconscious mind, to synergize your aspirations.
But, My pet, don't be alarmed if you find it HARD to remember the details of this session.  your Domina's subliminal programming is focused on soothing and conditioning your subconscious mind, by bypassing your conscious resistance and your waking memories.  In fact, the more you forget content of this session the more you can be assured that My subliminized therapy is helping you to SURRENDER ever more deeply to My authority and control of all that is you.
So entrust your mind to My safekeeping as I skillfully send you into a forgetful submissive sleep, completely blank and empty, imbued with the power of My voice and spirit, knowing that I will be with you (and in you) ALWAYS, and you will be BOUND to Me even more securely and lovingly. (giggles)  Who knows where you might end up with all of this SUBLIMINAL PROGRAMMING...Oh, yeah...I know.
Subliminal Programming, Binaural, Mind CONTROL, Brainwashing...Amnesia EXPECTED!
Product Download
Subliminized-(c)ShelleRivers.mp3
Subliminized-(c)ShelleRivers.mp3
Reviews
Thursday, 17 May 2018
It is this chastity slave's opinion that the three Subliminized sessions are some of Domina's finest work. This despite my not being able to remember what happens, really. I just know that I love these files and am so hard and horny at the idea of my Domina programming my open, suggestible subconscious mind in ways that I cannot remember. It makes me feel so submissive and owned!
Thursday, 12 April 2018
After listening to this file several times, i re-read the prior reviews and they are spot-on. This file is different, but in a good way. At first, i didn't think the induction style would work but it was a perfect setup for the subliminals. i have also been skeptical of subsonic subliminals, however while hard to describe, i can tell something is going on inside my mind during these peaceful, soothing periods. Very strange indeed. But very nice. And afterwards feeling great, more under Her control, and wanting to listen again and again. I promised my Domina that i would listen to the Subliminal files at least once per day for at least 30 days. However, it's gonna take longer than that to work through all 3 files because i don't want to leave the first one. i'm thinking things are going to change and a strong desire to serve this beautiful Woman is growing inside my mind. Thank You Domina for this wonderful file.
Saturday, 07 April 2018
A most relaxing session, except for the frantic need to listen again and again!
More reviews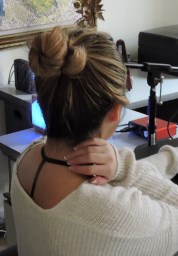 Get Updated