Summer Fun Assignment
My goal is for U/us to have some Summer Fun together...
Description
With Summertime, My favorite season, I want you to enjoy yourself on an adventure, right where you live.  My goal is for U/us to have some Summer Fun together.
This INCLUDES an AUDIO assignment and a document download.
Product Download
Summer-Fun-Assignment-(c)ShelleRivers.mp3
SummerFunAssignmentDoc-(c)ShelleRivers.rtf
Reviews
Tuesday, 09 October 2018
I'm a little late with my story for the Summer Fun Assignment. But, Well-- better late than never. I'm from Germany and helplessly addicted to Domina Shelle's voice for a little over two years now. I've fallen in love with her. She's just perfect and becoming her contracted slave was the best decision I ever made. Nothing feels better than giving her all control over me and to feel her collar around my neck. This summer I've seen a lot of places. I have been to a lot of National Parks in the US and to Hawaii-- but I chose to tell about-- when I visited a place back home in Germany. A place that I've been visiting already when I was 9 or 10 years old. At that time I wasn't even allowed to go there alone, because you had to go through the forest that surrounds it-- the place I visited is a flooded gravel pit.
Well-- I guess as a boy you don't always adhere to everything adults say. Anyway, I visited the lake again this summer. But not the part of it that is officially used as a bathing beach, where everyone is going-- I rather enjoyed the peace and quiet on the wild shore.
Sitting on a towel in the grass, surrounded by bees and butterflies-- under a shady tree, without anyone else around.
I had not been there for a while and enjoyed the time for myself a lot.
I had brought my sketchbook with me and drew a bit and I also just lay there on my towel and listened to Domina Shelle's sweet voice while gazing at the clear sky.
At that moment she was the only one I would have loved to have with me to show her that place. I should go there more often.
Saturday, 18 August 2018
i am from Germany and follow Domina already since 2011 - however in the last 3 years it got a little bit more serious - collar and all - you know! Now she is in my head all the time and especially during holiday I love to take Her with me. Holiday recordings are the stories – preferably those that involve waves and beaches. This holiday I spent at the baltic sea with my family and I met a mermaid – several times. Mermaid is a great holiday file. Thank You very much my Domina and i wish you all a great time!
Wednesday, 08 August 2018
I'm from the United Kingdom but live and work in the U.S. Having been a follower of erotic hypnosis for over 20 years and a slave to Domina Shelle for the past 18 months, Domina now controls the submissive at almost every level. It was therefore no surprise to me that as I visited the U.K. this summer Domina Shelle is never far from my mind. Distance is not a barrier for Domina Shelle since through the magic She weaves in Her sessions i always feel Her presence in all my actions and decisions. I take this for granted now but it would be a lonely place to not have Domina exert Her influence on me. Thank You Domina for all that You do and for being he amazing person that You are for giving so much to so many.
More reviews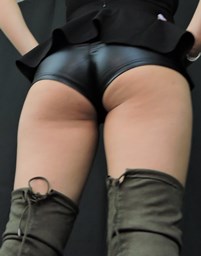 Get Updated