The Huntress
Can you escape Me?
Description
Level: Strong
Length: 38+ minutes
Category: Mind Control-Erotic
Sample: LINK
Imagine for a moment, going hunting, imagine what it would be like...sitting there very quietly, just waiting for your prey.  Not a sound at all, only the forest and you.  You can hear your heart beating and you feel the soft breeze touching your skin.  Isn't that nice...
Now, close your eyes and imagine that it is you, yes, you are the prey.  Someone is watching you, lurking somewhere in the night.  She is so close that you can feel the warmth of her breath on your neck, but you see nothing, ONLY pure blackness.  Your blood pumping, racing into your fast beating heart.  Your legs run faster and faster....but can you escape Me..The Huntress.... Wicked laughter!
Product Download
The-Huntress-fx6ohw8b.mp3
The-Huntress-fx6ohw8b.mp3
Reviews
Tuesday, 01 November 2016
Domina seemed to have blocked the memories from this session as i barely remember what happened.. i remember being chased by the Huntress, my Mistress Shelle... i think She caught me as i am sure to be Her slave forever and always... which makes me happy and smiling ... just like when i awoke from this deep amnesic trance.
Wednesday, 17 August 2016
Can you hope to escape Domina, do you even want to? With this rare file, Domina Shelle plays with Her slave; toying with him, but always watchful. I recommend that you listen to this file and find out if you can escape or ever will be free of your/our Domina.
Sunday, 18 November 2012
WOW! I felt compelled to write a review for this experience in, gratitude I guess you could call it, I'm not really sure. But after listening I felt a deep love and devotion to Princess and a need to please Her in whatever way I immediately could. It's difficult to provide a proper review since I can't remember anything only a sense deep submission and awe for my beautiful dominant Huntress. She owns me. Forever.
More reviews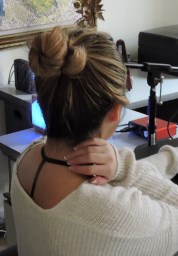 Get Updated