The Unethical Therapist - Session 2
The second in a series of Compulsory Therapy Sessions...
Description
Level: Strong
Length: 44 minutes
Category: Brainwash-Mind Control-Erotic
Sample: LINK
POWER Brains and BEAUTY---all combined for some devilish mind play.
This is the 2nd in a series of Compulsory Therapy Sessions that are designed to modify your mind.  Some might say that I am Unethical in My therapy (maybe a little TWISTED)....but you trust Me and you don't even care if I play inside your mind, maybe even REWIRE your brain.  I am the only one who knows what you really need.  I am the only one you respond to.
***Wicked Laughter***
It's ok, I'll help you, give you some NEW and better ways to think.  I will even leave you with post hypnotic suggestions and implant triggers that may never be removed....GIGGLES...Don't worry, I know what I'm doing.
BE WARNED----each session becoming more powerful and more wicked.....and it is essential that you obey Me by participating in these therapy sessions.  For best results listen to Session 1 first.
Product Download
The-Unethical-Therapist-Session-2-cysb9dxi.mp3
The-Unethical-Therapist-Session-2-cysb9dxi.mp3
Reviews
Monday, 30 November 2015
Oh, God. Even before listening this I've enjoyed wathing women's breasts. Now Domina Shelle has turned me into an addict. I hope I don't get into trouble. :)
Friday, 21 August 2015
Thank you Dr. Shelle for treating another one of my fetishes. You know exactly what I need. I really can't wait for another session.
Tuesday, 11 August 2015
After Doctor Shelle already treated one of my fetishes in my first session with Her, now She is dealing with the second one in my continuing therapy. Again i was deeply asleep for Her and very suggestible which makes it easier for Her do correct my fetishes or better say channelize them into addictions. Addictions that are making me a more controllable subject for Her and make me crave Her more. i still feel dizzy and so aroused as i am hard and horny. All i can think of are images of my sexy and hot therapist Doctor Shelle, my Domina, leaning Her voluptuous perfectly shaped breasts on my face as i am allowed to touch Her sexy nylon covered legs with my hands. The given addiction make my crave for more. i need to return to Doctor Shelle for my next therapy session as soon as possible.
More reviews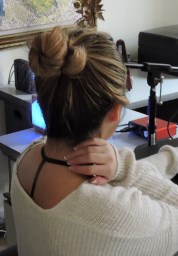 Get Updated