Trapped-The Dark Queen
I love f*cking with your little brain...
Description
Level: Medium
Length: 32 minutes
Category: Wicked Mind Control-Erotic
It's time to make a little visit to your "Dark Queen".  I will bring you to MY world for a little (evil) playtime.  I can't tell you where you might end up, that would spoil the surprise (trap), now wouldn't it.  I will tell you that I love f--king with your little brain....let's just say, I'll take you deep enough that you would follow Me anywhere, even on the darkest of nights.
"Follow Me, follow My voice!  Follow the sounds of My bats, follow My enthralling perfume, that's it, picture My deep BLOOD red lips and how they will feel.... you are getting closer and closer to Me... no turning back now...".  I bet you would follow Me anywhere, even if it were DANGEROUS, wouldn't you!
A wicked and scary most HYPNOTIC experience....
Product Download
Trapped-The-Dark-Queen-qs48kmc-(c)ShelleRivers.mp3
Trapped-The-Dark-Queen-qs48kmc-(c)ShelleRivers.mp3
Reviews
Monday, 09 October 2017
The Dark Queen got me today – and it is not even Halloween yet! Fantasy themed recordings are usually not my first choice but in Dark Queen Domina Shelle weaves so many topics together into a great hypnosis file that it is a pleasure to discover the (her?) different facets. A life sucking Demon – sexy as hell – might turn into a twisted reflection of a mother bringing her child to bed. And the weakness? – the loss of power? - All the familiar hypnosis topics so intelligently wrapped in a fantasy story line that I realize much later what Domina is actually doing: Domina is just doing, what she does best, relaxing me, bringing me down, taking my power and hypnotizing me. I love Her bright side and Her dark side, i love also Her icy side and Her warm side. But i especially love when she switches faster than i can follow – leaving my confused and desperate
Saturday, 28 February 2015
Do you dream of being taken by a wicked and seductive Woman? Lured away from your plain and predictable life to be used for Her pleasure? Then this may be a perfect file for you.rnrnAfter taking you down, Princess Shelle begins to weave Her story, calling to you in a voice you can not deny. But be warned, this file is not about you! No, in this story Domina is something out of a dark story, a villainess, and She intends to take what She wants. She is as seductive and dangerous as your darkest dream, and is more than willing to let you walk into Her arms. rnrnOf course, once you're there, it is far too late for wanting anything less than giving over your very soul. Isn't that a simple thing in trade for a passionate kiss from your dark Queen's lips?
Tuesday, 28 October 2014
my Domina took me to Her kingdom, a dark kingdom where She rules as The Dark Queen. She made me to one of Her loyal mindless slaves, ready to fulfill any command She gives. Although She trapped me in Her kingdom, i embrace to spend the eternity there obey every of Her orders. Even that some hour have past since i listened, this scary fantasy my Domina created seems still so real to my mind. my mind starts to realize that my dreams are my real reality like my Domina often says. i trust my Domina completeley, therefore it must be true. i am trapped in Her kingdom and awaiting my Queens next command. i'm eagerly waiting for it in my new "bed", whenever it will be. i love my Queen and i'll obey Her every command without thought and without question. i cannot wait to dream and return to Her again.
More reviews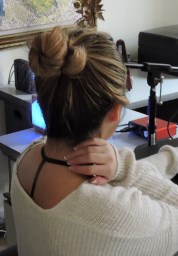 Get Updated